New baby products come out every year. Companies spend tons of money trying to convince moms and dads that they are less of a parent or don't love their kids enough if they don't get the latest and greatest stroller, carseat, baby gear, outfit or toy.
Although I'm of the mindset of less is more, there are a few new baby items that I have been loving lately!
This is where Ian usually naps. Portable, comfy, and makes him happy.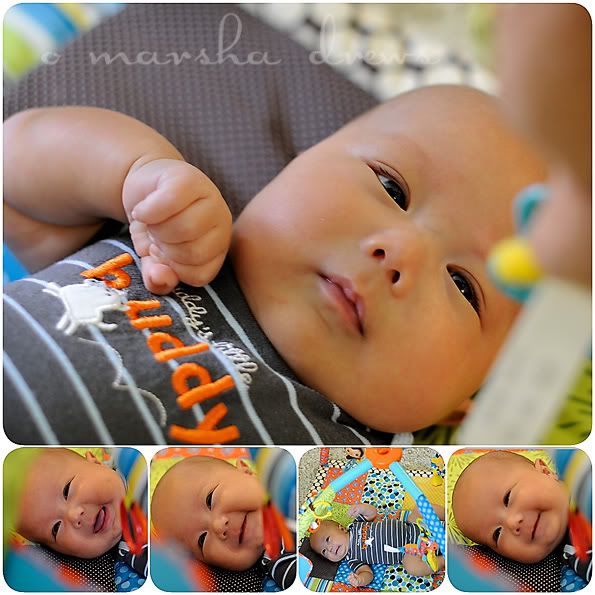 3.
Twist and Fold Activity Gym
- When babies are just getting out of the sleep 23 hours a day stage, you end up needing one more "station" to capture their interest so you can brush your teeth, pee, or help someone with their math.
I love the colors and that it folds up.
Ian likes the mirror and hits the toys with his hands and feet.
At the same time.
He's advanced.
#1 in his class! :)
4.
Muslin Swaddle Blankets
- A little pricey, but these blankets are generous in size, wash up to super softness, and are perfect when the temps are a little on the warm side.
5.
Medela Freestyle Breastpump
- Oh my goodness, this was a lifesaver for us! Medela makes the best pumps ever. When Ian was in the hospital for 2 weeks, this bad boy (the pump, not Ian) worked tirelessly every 3 hours. Nothing like good ole breastmilk to fatten and grow a wee little one into a chunky monkey!
And this little number is worth the extra money for the sheer sake of being able to toss that LITTLE square pump into the diaper bag, your purse, or pretty much anywhere. Rechargeable and easy to use, I keep it in a little tote so I can pump in the car if need be.
I also throw in this
nursing cover
to keep other people's uncomfortableness at bay. Some people call them hooter hiders which totally makes me *snort*.
We're not to the Bumbo stage yet, but I am shocked in both good and bad ways at all the new fangled baby things that are available.
Do you have a new favorite? Is there something you wish you had back in the day? Any must-have's that I'm missing out on?