I was in the third grade when I finally "got" what my dad meant whenever we had this conversation:
Kids:

Daddy, we're hungry!




Dad:

Nice to meet you Hungry, I'm dad.

Yup, hilarious.

Not.

He said this quite often so it truly was a lightbulb moment for me when it clicked in my head! When I explained the revelation to my younger siblings, only one of them "got" it too. Oh well. They all figured it out eventually (I'm assuming).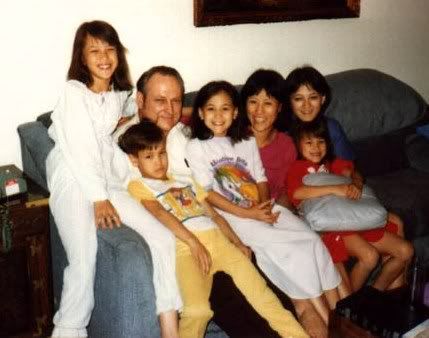 (I must have no shame in posting this picture. For the record, I was younger than this in the aforementioned trip down memory lane. Also, those are my pj's... not real clothes. It's embarrassing either way though.)
To carry on the sad tradition (and because it's a fact that you always end up saying things your parents said), I'll do that to
my
boys sometimes.
Mommy, I'm hungry.

Glad to meet you hungry, I'm mommy.
They haven't gotten it... yet. They just kind of tilt their heads and laugh at me. Because I am apparently so very silly. But one day, they will laugh (or groan) because they'll realize that I am so very clever.
Or not.
Edited to Add: See my brother Stephen up there? That is the exact thing he'd do (along with a sister or two) in the very back seat when my parents would yell "Straighten up back there!!!" Except his whole body would be completely straight. What a dork! Good times y'all, good times...