I had great plans for a Happy Birthday post today, but for some reason firefox kept crashing and photobucket would freeze up. This has been going on for two days!
As I was getting frustrated with it all, God kept impressing upon my heart that I needed to post the following that I've had sitting in my draft folder for the past two weeks. It makes me a little nervous to post it... I don't know why, it just does.
I am praying for all of you that are reading this. I pray that by being obedient in posting something so close to my heart, that someone (maybe YOU) will draw closer to the Lord or come to know Him personally. Because we each make our own personal choice, a choice with eternal consequences.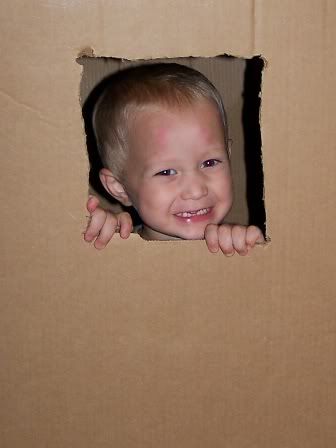 *****
It was late afternoon. I was nervously pacing in my driveway as the sheriff's department and K-9 units were searching our house and property for my son.
Where is Christian?!
It had been almost an hour (or was it a half hour?) since he was last seen coming into the house. I had never not known where he was or what he was doing. Christian was the type of kid that was right in the thick of things, always by your side, always into something, and usually making a mess or loud enough of a racket where you couldn't ignore him. Even if you tried!
Just thinking about my littlest man being hurt or scared put a knot in my stomach that made me want to be sick.
Oh how I was praying!
Dear God, I KNOW that you know exactly where Christian is. I KNOW that you are able to protect Him. I KNOW that you are able to deliver him to us! I KNOW that you answer prayer. I...
This is where God inserted His voice. Right in the middle of my plea.
And what if my answer is not what you wish it to be?
I was taken aback by the clarity and compassion behind His voice, His words. He was speaking directly to ME. No one else heard Him.
The panic in my heart grew.
Right then, I saw my pastor walking up the driveway towards me. Friends and neighbors were beginning to arrive, armed with flashlights, ready to search. Prayers uttered. Words of compassion, words of encouragement, words of hope.
And what if my answer is not what you wish it to be?
Would I still believe in the omnipotent power of God? Would I still believe that His Word is true? Would I still trust Him, call to Him, worship Him, thank Him, PRAISE HIM?
And what if my answer is not what you wish it to be?
These words haunted my thoughts as the divers and sonar boat arrived on scene. These words echoed when the detective said that they would issue an amber alert after one more sweep of the pond.
And what if my answer is not what you wish it to be?
I couldn't get these words out of my head. I feared to tell anyone... they still seemed hopeful.
But God's answer to my prayer was
not
what I wished it to be.
For I reckon that the sufferings of this present time are not worthy to be compared with the glory which shall be revealed in us.
-Romans 8:18
I have wrestled and struggled much these past 444 days. I have cried, doubted, remembered, longed and hoped. I am glad that this is a "present" time, rather than an everlasting time.
Through it all, God has been constant, faithful, true. He has always offered a way of escape when I have been tempted to give up and give in to the slough of despond.
There hath no temptation taken you but such as is common to man: but God is faithful, who will not suffer you to be tempted above that ye are able; but will with the temptation also make a way to escape, that ye may be able to bear it.
-I Corinthians 10:13
And what if my answer is not what you wish it to be?
Will YOU turn to Him or from Him? Can you look past this present time and look to eternity?
For our light affliction, which is but for a moment, worketh for us a far more exceeding and eternal weight of glory; While we look not at the things which are seen, but at the things which are not seen: for the things which are seen are temporal; but the things which are not seen are eternal.
-II Corinthians 4:17-18
And what if my answer is not what you wish it to be?
No matter what your particular trial is, would you still go to Him, cling to Him, trust Him?
If you are unsure, NOW is the time to shore up your faith. NOW is the time to immerse yourself in God's Word, to study, to learn, to grow, to hide His words in your heart. Don't put it off any longer!
And if you have never given your life to Jesus Christ, then there is no better time than
RIGHT NOW
!