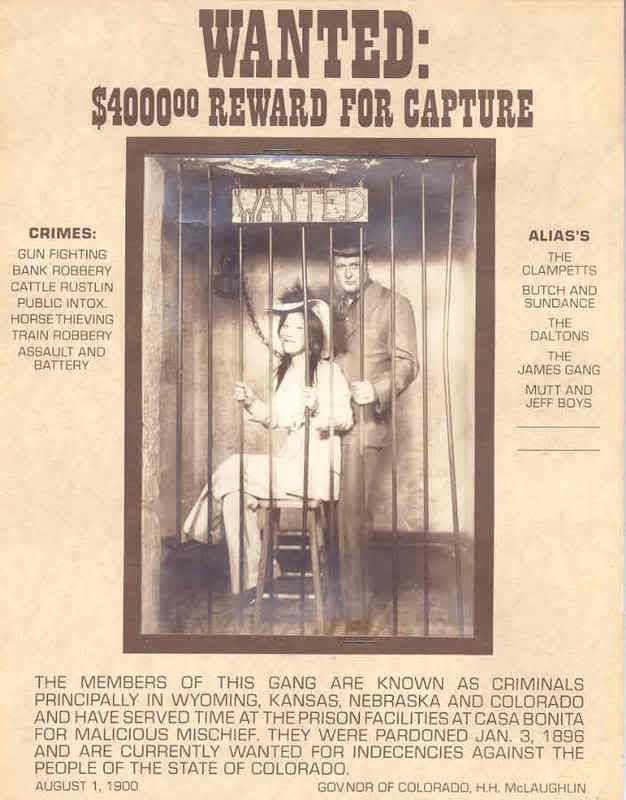 When I was little, my parents had this framed picture hanging on the wall. My siblings and I would gather around it and whisper the implications of such a thing.


Mom and dad-- in JAIL!!! Horse thieves! I didn't know they could ride a horse! And they robbed both a bank and a train?! I wonder how they escaped.

So many questions, such big imaginations. It all had to be true too. After all, we did live in Colorado for a short while and mom and dad never denied this actually happening.

I am also rather certain that the $4,000 reward must have crossed all of our minds... whether we'd admit it publicly or not. That is a lot of moolah to a 6 year old kid.

I think it is also safe to say that none of us were very good at math back in the day. Either that or we thought it fit in perfectly with the fact that mom and dad seemed very old. Did you see the date of pardon down at the bottom? Yup, that says 1896!

Good times, people. Good times...

I am still so tempted to get a picture like that made of David and me. Hmmm... I wonder if we'd be worth more reward than just $4,000.