So I was tagged by my dear friend Amy. Amy, you know I'm your friend when I'd actually unlazy myself long enough to answer questions like these!
Favorite food?
Korean food! Dwaejibulgogi (spicy pork), Ojingobokum (spicy squid), kimchi (radish, cabbage, puchu, all kinds!), bulgogi (
not
spicy beef)... My mouth is watering just thinking about it all...
Quirks about you?
I am double jointed in my elbows so you can twist my arm really
really
far. (This has oft been my answer to this type of question-- I'm not very creative.)
Any regrets in life?
Some bad choices in life, but God's grace has been sufficient!
Favorite Blog recently?
Very hard to pick! But lately, I've been loving
The Pioneer Woman Cooks!
and
Pioneer Woman Photography
. And I have to say that I've
really
been enjoying
Lisa's blog
. She is so funny!
Something you can't get enough of?
Coffee. (Yes, totally lame next to your reply Amy, but I didn't want to be a copycat.)
Worst job you've ever had?
Secretary for the relocation department of Ernst & Young. Yes, I am naming that company b/c I despised that job more than anything. I was SO miserable, mainly b/c of my boss who'd show up late and then make us stay late because she never got around to actually
working!
Plus, I was waaay underpaid, overworked, my feet hurt and did I mention that I really really really disliked my boss? That's what happens when you call your boss enough times at their house asking if they are going to come in to work that day. It was even worse than the job at a laundromat where I washed
other people's laundry
. Yes,
that
bad!
But I'm not bitter. I am SO over that point in my life. Yup, la la la la la...
What job would you pay NOT to have? I wouldn't want to be one of those guys from that Verminator show. Ewwww!!!

If you could be a fly on the wall, where? In the cockpit of my husband's airplane. I wonder what they really talk about up there during those 5 hour flights... Okay, I pretty much want to know what he says about me... he tells me, but I want more details. :-)

Favorite Bible verse right now? Three that go well together:

If any of you lack wisdom, let him ask of God, that giveth to all men liberally, and upbraideth not; and it shall be given him.
~James 1:5

And thine ears shall hear a word behind thee, saying, This is the way, walk ye in it, when ye turn to the right hand, and when ye turn to the left.
~Isaiah 30:21

For this God is our God for ever and ever: he will be our guide even unto death.
~Psalm 48:14

Guilty Pleasure? Starbuck's Mint Mocha Chip Frappuccino

If you HAD to spend $1,000 on YOURSELF, how would you spend it? I have no idea! I'm thinking family vacation... that's sounds really nice about now.

Favorite thing about your house? My dream master bathroom courtesy of a talented hubby and a useless extra master closet! Now I have a big tub for a bubblebath... aahhhhhh...

Least favorite thing about your house? The laundry room space is very crowded... I can't even open the dryer door all the way without it banging into the wall in front of it.

One thing you are bad at? Golf... although I do have some super cute pink golf shoes!

One thing you're good at? Playing my flute. And cooking (most of the time).

If you could change something about your circumstances, what? Absolutely nothing. I love my life!

Who would you like to meet someday? That's a good question. I have no idea. I've never been one to get fixated on people. But one day, I'll get to meet Jesus!!!

Who is your real life hero? My husband... and if he's busy, I've always got one of his sidekicks nearby...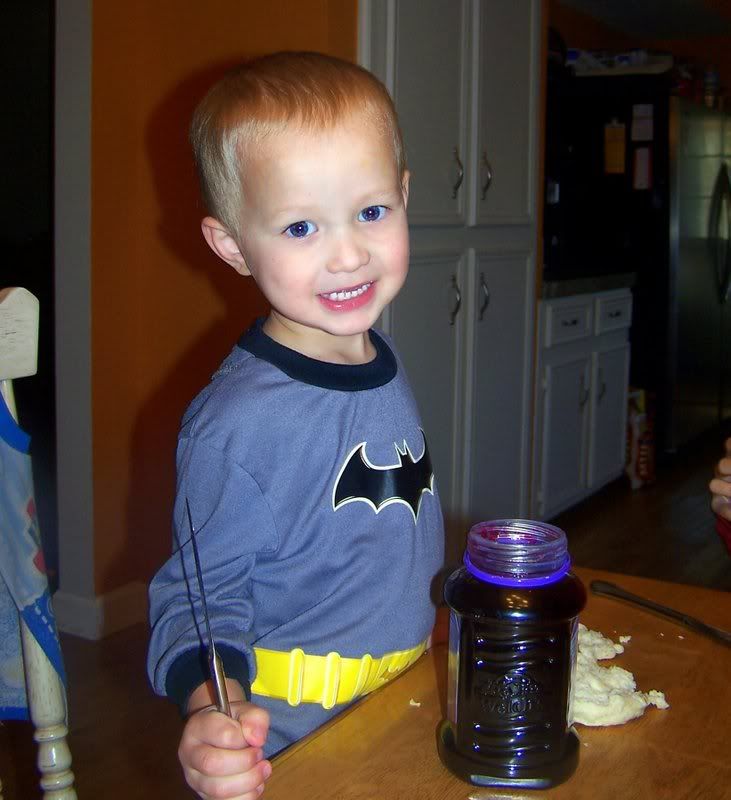 What is the hardest part of your job? Hard??? I've got this kid thing DOWN! My kids came with mommy manuals... and so did my husband. What? You mean you didn't get manuals with yours? Maybe you can check online for a manual... because it is SO EASY every single day. I'm telling you, I sit on the couch and eat bon-bon's 24/7. *snort*

When are you most relaxed? After the kids are in bed for the night... and asleep.

What stresses you out? A messy house.

What can you not live without? Coffee, high speed internet, my cell phone.

Why do you blog? It's an easy way to keep in touch with friends and family. And I love that I can write about the kids and then forget about it, like a journal but faster since I can type and add pictures and video clips!

Who Am I Tagging? If you want to participate, feel free to join in! Let me know though because I'd l-o-v-e to read your answers.

Rules:
1. Answer the questions
2. Link back to whoever tagged you
3. Tag eight bloggers to do the same, 2 from each category.
New/ newer bloggers (since we want to share the love and send them traffic)
Bloggy friends
Bloggers you'd like to get to know better
Bloggers you don't think will respond, but you hope will