I have shingles.

There's a big stabbing pain in my neck... I'm okay though. Sure it hurts, but it's not debilitating or anything. I wonder if I just don't have a severe case of it? Or maybe I have a high tolerance for pain?
Could be the high tolerance thing. Speaking of high tolerance for pain and pains in the neck, that makes me think of my little brother Stephen (pronounced "steh-fun").


When we were little, my sisters were scared of my punk of a little brother. Scared of him because he was weird, mean and would hit really really really hard. But never fear, Marsha is here! I would go up to him and fight him even though I KNEW that it would really hurt me. It was just worth it and I learned to cope. Now that we're older and can talk about such things, I am happy to report that I also caused him much physical pain-- hooray for me! LOL

So I guess I should thank him for training me to be tough or something. Too bad he doesn't have a blog so I could send all of y'all there to harass him. I am very thankful that he turned out to be a pretty cool little brother-- although that didn't happen until he was almost 18 years old! Now he's a man and all-- husband to Terri AND father to my cutie-patootie nephew Caden (who is much fatter, rounder, noisier and busier now than he is in this picture).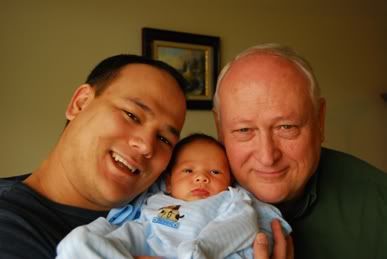 You turned out pretty good for a punk of a little brother, Stephen! I guess I should cut you some slack though for being the only boy with 4 sisters. You can't exactly survive that and be completely "normal".

And my daddy up there? Yup, he is O-ficially re-tired! Congrats, daddy! My mom and dad have been spending their hours of free time on the Wii. They totally *heart* Wii Golf. So much so that my mom can use the terms par, bogey and birdy correctly! That's just weird, y'all.

On a final note, I have learned much and been quite encouraged from the A Woman Inspired Conference this week. But since I am not in a serious, self-reflecting mood, I would like to pose this particular question that I have been pondering since Shelly Ballestero's talk on beauty:


How do YOU choose a shampoo?

Are you swayed by commercials? Would you NOT buy a particular shampoo b/c the commercial or ad campaign is completely annoying a la Herbal Essences? Do you choose one strictly for its smell/scent? Do you still hold out hope that the claims on the packaging will be true? What is your favorite shampoo/conditioner of all time?

I'm just wondering.