When I have the most to say, that is when words seem to escape me.
Bullet post to the rescue-- I just need to get this out of my head!
-My Uncle Blaine passed away on November 1st. Please pray for his wife Barbara and his sons, as well as for my G-ma. I can't imagine saying goodbye to three sons... and for my dad and Auntie Ann, who have said goodbye to three brothers.
Uncle Blaine talked about seeing my Uncle Terry, who had passed away in 2003... It just has me thinking... a lot...
-Christian's birthday is coming up. I can't believe he would be 7 years old. I am not dreading the 12th at all this time, but I am feeling emotional nonetheless. I'm not sure if it's being far away from family when there is loss, as well as when there is life (my nephew Jude is due Nov 13th!)... or if it's just a crazy hormonal thing (can you have PMS when you're pregnant?).
-Having three points here would make this post neat and tidy, but I don't know what else to say. My mind just goes back and forth to Blaine and to Christian and to baby Ian (who is kicking up a storm right now) and then to family and friends that have suffered deep loss.
Wandering thoughts and a restless mind makes me a little crazy. I think this calls for going to bed early and praying myself to sleep.
Isn't that the best way to end the day, handing all your burdens and worries over to the Lord?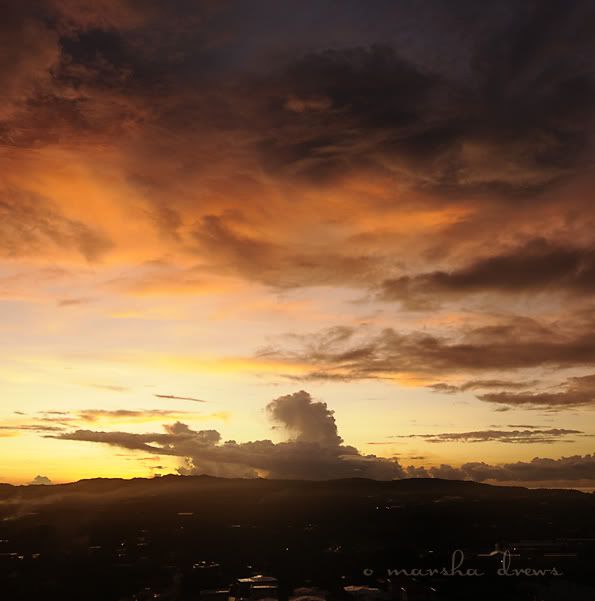 If We Could See Beyond Today
If we could see beyond today
As God can see;
If all the clouds should roll away,
The shadows flee;
O'er present griefs we would not fret.
Each sorrow we would soon forget,
For many joys are waiting yet
For you and me.
If we could know beyond today
As God doth know,
Why dearest treasures pass away
And tears must flow;
And why the darkness leads to light,
Why dreary paths will soon grow bright;
Some day life's wrongs will be made right,
Faith tells us so.
'If we could see, if we could know,'
We often say,
But God in love a veil doth throw
Across our way;
We cannot see what lies before,
And so we cling to Him the more,
He leads us till this life is o'er;
Trust and obey.
-Norman J. Clayton
For my thoughts are not your thoughts, neither are your ways my ways, saith the LORD.

For as the heavens are higher than the earth, so are my ways higher than your ways, and my thoughts than your thoughts.

-Isaiah 55:8-9