I labored not on this Labor Day. I partied with friends instead.
One very special friend is Sister Doris from my church. (And no, she's not a nun nor my sister, although she is my sister in Christ!)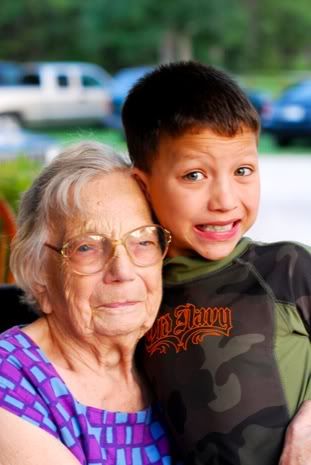 She is one very sweet, thoughtful and interesting 90-something year old woman. I always enjoy her company whenever I have the opportunity to pop in for a visit.
This past Friday, I stopped by to say hello. And guess what she likes to watch on TV on Friday nights?
WRESTLING!!!
I kid you not. Isn't that a hoot? I wonder if she was also a fan of the
Von Erich's
back in the old days. Back when wrestling was
REAL,
y'all. :snort:

Awww... I just love her. She is very fun to talk with and full of surprises!

Is there anyone in your neighborhood or church that
you
could befriend?
Don't be shy! This is one of those things where it really is more blessed to give than to receive. You always get back
sooo much more than you give.