After the dreaded conversion of my favorite Korean market to a Panaderia, it has come to this.
I ordered Kimchi through the internet. (Please don't disown me, mom!)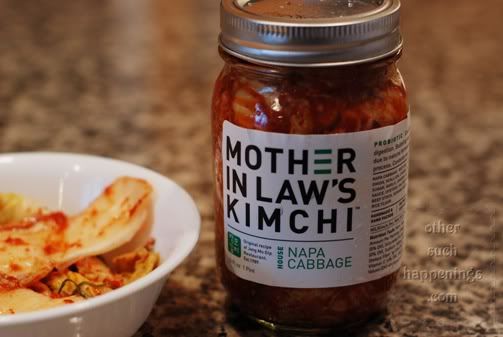 And it was good. REALLY GOOD.
I'm sure most of y'all are familiar with
etsy
by now. It is an online marketplace where you can buy all sorts of handmade items-- from fabrics to jewelry to artwork... it is
all
there.
Although the jars are small for the price that you would pay in a traditional market, it is worth it! It's at just the right stage of fermentation where you can it eat with rice or cook it in a stew. Since David and the boys won't go near the stuff, this should last me for a while. Besides, it would take me 1.5 hours roundtrip to drive to a store. If you figure in gas, traffic and time... this online kimchi will work out great for me, thankyouverymuch.
I am blown away by all the specialty items like local honeys and jams and even
gluten free
goods. The $7 flat rate shipping is a great deal for those purchasing heavier items.
Let me know if y'all try anything from
Foodzie.com.
I promise I'm not getting paid to promote them! I just get worked up when it comes to food, especially food that someone thinks is so good that they should try to sell it on their own.
It would be nice to see this site grow. I know people like my mexican casserole but I don't think there's a market for that.
Have any of y'all ever thought of selling food online? What would you sell?
Boy, I kinda sound like an infomercial. I was just excited to get kimchi delivered right to my door. Pretty cool for living in the boonies.
I'm going to go brush my teeth now.