I went to our
Classical Conversations
meeting tonight to put student notebooks together. It was my second time meeting the moms from our new Essentials class and the first time to really be able to just chat with one another.
I enjoyed talking with the other moms, one of which has 14 children! (Several homemade, several adopted and several foster.) As most conversations with mothers do, the talk turned to number of children. Actually, I was surprised that it took an hour and a half before we got to the subject.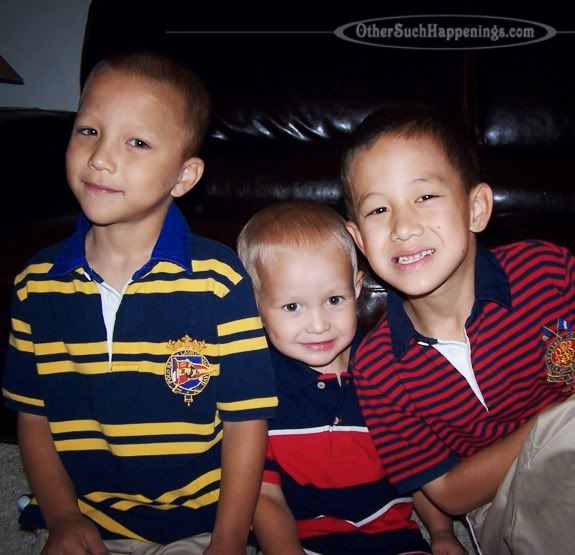 When it got to me, I said "I have three boys. Those two right there and one that passed away almost 2 years ago."
And I said it without crying.
I even said it without choking up, hesitating or stuttering. It was a first for me!
I'm not quite sure how I feel about that either.
"I'm so sorry" was replied and then I kept talking about other things, not really wanting to be a downer and dwell on the subject.
Do you know what I realized?
These people have never met Christian. They don't know who he is or what he is like. They don't know when he was born or when he died. They don't even know his name because I didn't mention it.


Although they were feeling sorry for ME, it was *I* that was feeling sorry for them for not KNOWING him!
They truly missed out, y'all!
Then I realized something even more tragic...
How many people cross my path every single day that do not know Jesus?! My heart breaks for the loneliness and emptiness of the hearts that are empty of Him! I cannot imagine my life without Jesus.
Jesus
my compassionate Savior,
healer,
redeemer,
and friend of the weak.
He is my Lord, my example, my hope!
Out of His mouth comes wisdom.
He is real from day to day.
Oh that my children see Him in me and through me always-- in words, actions and attitudes! That is a mighty tall order for this weak, failing woman.
Praise God that "I can do all things through Christ, which strengtheneth me."
(Philippians 4:13)
And does it bother you that others don't know Him? What are you going to do about it?