I'm sitting here listening to the hymn "I Surrender All". Listening to the words, I take a deep breath.
All to Jesus I surrender;

all to him I freely give;

I will ever love and trust him,

in his presence daily live.
Sometimes it is hard to surrender. I give my pain over to the Lord and then I take it back, as if holding onto the hurt that is seizing my heart will somehow make Christian more alive to me.
Each day that passes further cements our "new normal".
And my whole being fights it.
Can't I hold on to the old normal a little while longer?
To my orange kitchen, a carseat in the middle row of the van, Batman pj's, red Power Ranger underwear, fwogs in the fridge, and Christian's little voice piping up with "Dwink pwease!" when he's vying with his brothers for a sip of the Icee?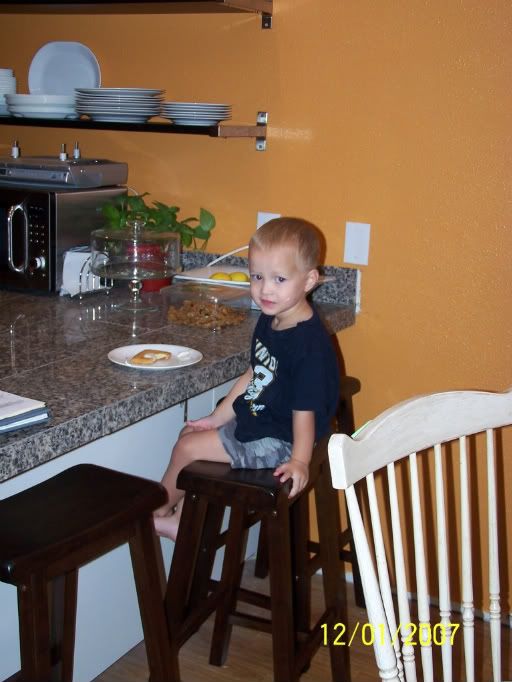 I am truly pained that another school year is starting and I don't have a third student to add to my plans. We were both looking forward to Christian learning to read and graduate from Kindergarten, doing all those fun hands-on things that little guys get to do. Our
current
curriculum is so... grown up. I am very proud of Austin and Noah's growth this past year, but it is a little bittersweet since our
old
plans were never fully realized.
(I wonder how I'll feel this time next year?)

I want to hold on to the chapter of my life that is forever marked as "Before Christian..."
I can't even bring myself to finish that phrase out loud.
Before Christian
what
?
Before Christian died.
That sounds so harsh and ugly, doesn't it? I suppose that's because it is. Death is ugly, brought into this world as a result of sin. There is nothing pretty about it, especially when it's your own child.
They
are supposed to mourn the loss of
us
, it's not supposed to be the other way around!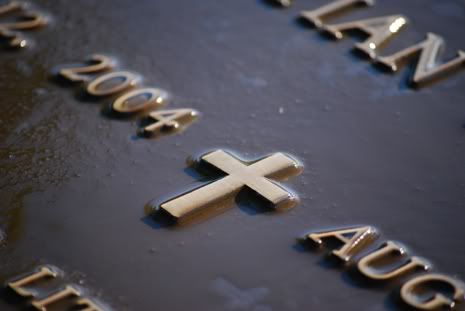 And now the song on the radio is "Jesus Paid It All"... I stop crying to listen more closely to the words.
I hear the Savior say,
"Thy strength indeed is small;
Child of weakness, watch and pray,
Find in Me thine all in all."

Jesus paid it all,
All to Him I owe;
Sin had left a crimson stain,
He washed it white as snow.
He carries me when I am weak (which is often). Others might see me as strong, but it really is His strength, not mine. He brings me back once more to where my focus should be-- on Jesus' finished, redemptive work on the Cross of Calvary!
He encourages me throughout the day and lightens my burden. It is His grace alone that allows me to smile, laugh, and find joy while a piece of my heart is missing.
For nothing good have I

Whereby Thy grace to claim;

I'll wash my garments white

In the blood of Calv'ry's Lamb.
If I didn't have eternity to look forward to, I would be a real basketcase right now. This world is so dark and depressing, full of heartache and emptiness, even when you don't have "big" troubles. If it weren't for the loving grace of God and His constant reminders that He cares for me, I would most likely be depressed, divorced and distant from everyone I know. It would be all the more tragic to mourn the loss of our marriage or the destruction of our family on top of it all. (Thank you, Lord for keeping us together!)
Once you allow a little ugly or bitterness take root, it has a way of growing like a weed, quickly choking out all that is good in your life.
Choking is never a good thing, y'all.
And now complete in Him,

My robe, His righteousness,

Close sheltered 'neath His side,

I am divinely blest.




Lord, now indeed I find

Thy pow'r, and Thine alone,

Can change the leper's spots

And melt the heart of stone.




When from my dying bed

My ransomed soul shall rise,

"Jesus died my soul to save,"

Shall rend the vaulted skies.




And when before the throne

I stand in Him complete,

I'll lay my trophies down,

All down at Jesus' feet.
I WILL stand at Jesus' feet. I will stand where Christian has already stood before me. And the One who suffered greatly will extend His arms and nail scarred hands to embrace me.
(I'm sure Christian wouldn't be too far away either, probably standing really close by with a giant grin on his face.) :-)
I really need to quit being amazed at how God will sort my thoughts and walk me through my tears and worries. He is so good to bring me from tears to thankfulness-- all in the span of writing this post.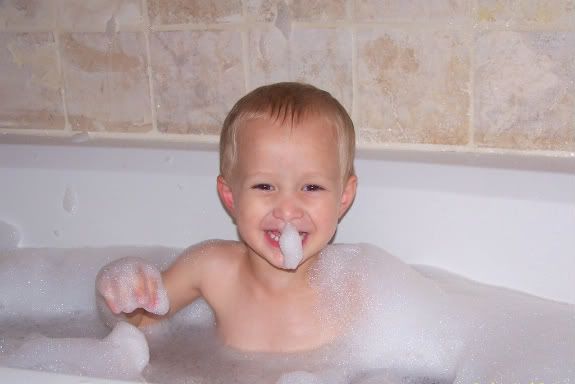 Okay, I'm going to stop now and go to bed thinking... about what it will be like to see Jesus with my eyes for the first time... about what things will sound like in Heaven... about Christian's big grin and excited laugh...
It will be a joy *huge understatement!* to hear the voices of my three boys laughing in Heaven together. Even better to hear David laughing with them.
And I bet Jesus would join in on their laughter too.
{I am so thankful that they have all believed on the name of Jesus and asked Him into their hearts. Do
you
believe
?}