This is our first year as a
Scouting
family. With one Boy Scout and one Cub Scout, it has been an interesting experience. We've had a great time learning different skills and spending time with other Scouts and their families.

And even if we didn't have all that, look how stinkin' CUTE they are in their uniforms! :)
If my boys heard me say that out loud, they would give me this look: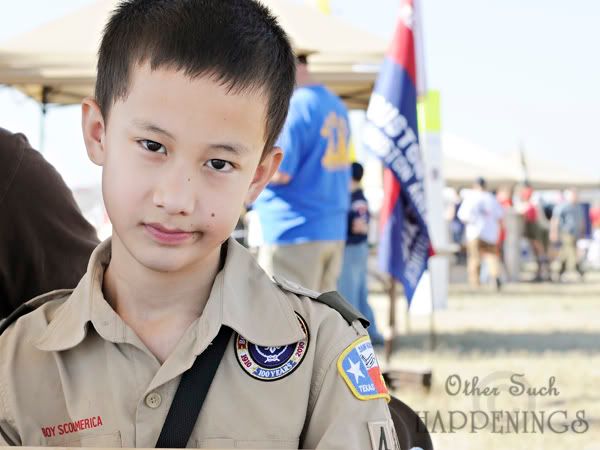 I think it's contagious.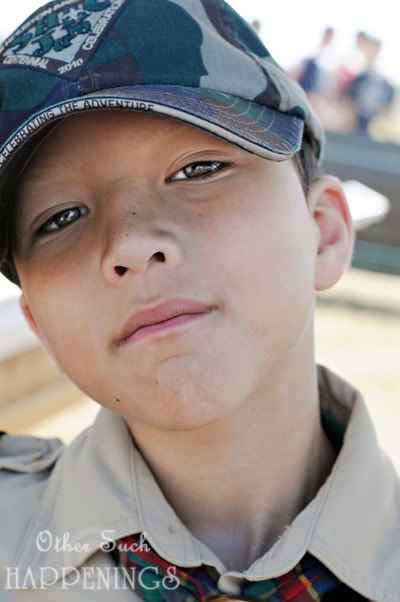 Maybe I should've made myself a hidden camera instead.
The fake smiles and real smirks can be a bit discouraging sometimes. I'm glad they can't be on smile-avoiding-duty 24/7.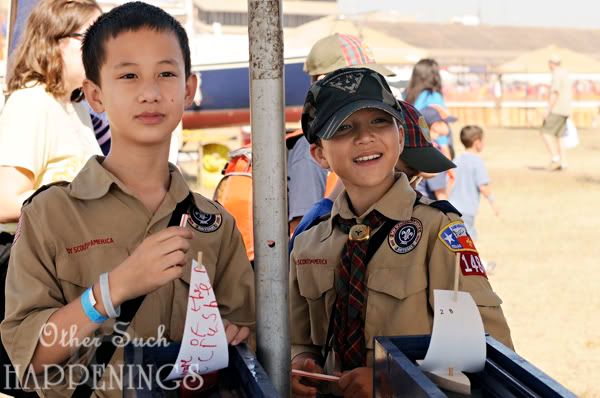 Oh! Thank y'all for giving me your input on
which picture to send
to Great Grandma. I think it was almost unanimous that the no-teeth picture is the keeper, er sender... you know what I mean.
I am such a big dork for snickering
every
time someone wrote "I like no teeth!" *snort*
These pictures were taken at SHAC Jam, which stands for Sam Houston Area Council Jamboree, this past Saturday. We drove in for the day, joining over 22,000-- yes, that is twenty two THOUSAND-- other people in a slew of outdoor activities, displays, crafts, and even a world record setting rocket launch!
(Nope, I didn't film it.)
It was fun, but I'm glad it's over. Hot, dusty, and did I mention the whole 22,000 people thing? I am such a pansy when it comes to crowds.
So, is your family a part of Scouting? Were you ever a Scout (boy, girl, brownie, cub)? Do you have a cure for the camera smirk?