My mind is still bursting with thoughts and insights from
Relevant
. It was a phenomenal conference, y'all. Words cannot adequately describe how breathed-of-God the weekend was. I am still trying to process it all.
When my mind cannot fully absorb these BIG experiences, it focuses on the smaller details.
Like these chairs.
David drove to Austin with a friend today. When he saw these two chairs, he
immediately
thought of me. He texted me a picture and bought them on the spot. Only $35 for the pair!
These chairs are super cute and comfy. But what warms my heart even more than this bargain is that my husband KNEW that this is
exactly
what I would like.
Forget being newlyweds, marriage just gets better and better with each passing year! I love how David loves me. How he shows me he loves me. And how he often knows me better than I know myself.
Well, there is one thing that happened today that shows he doesn't know me as well as he or I thought.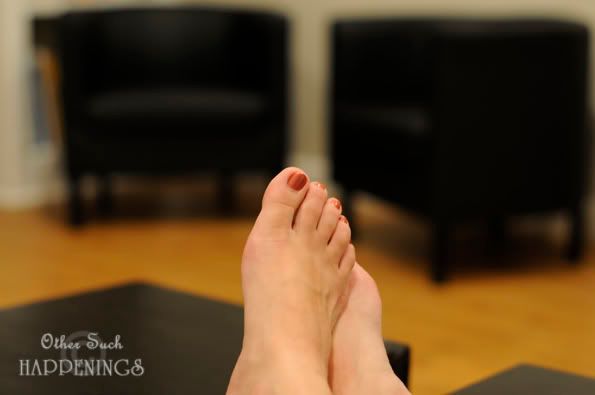 I had my very first pedicure today.
It tickled.
My feet are happy, soft, scrubbed and polished.
Do you like the color? It looks more pink in person.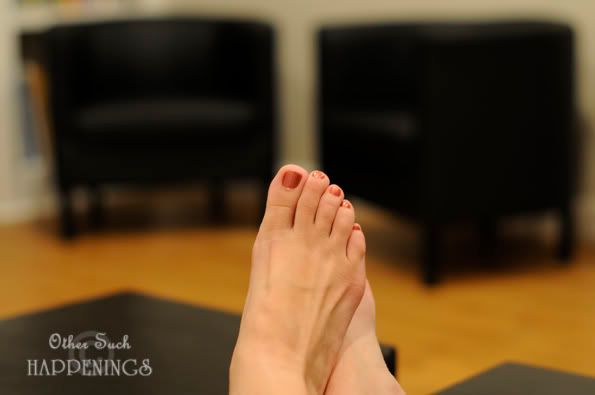 David asked me how much it cost. I told him $50, which comes out to $5 a toe.
He about choked.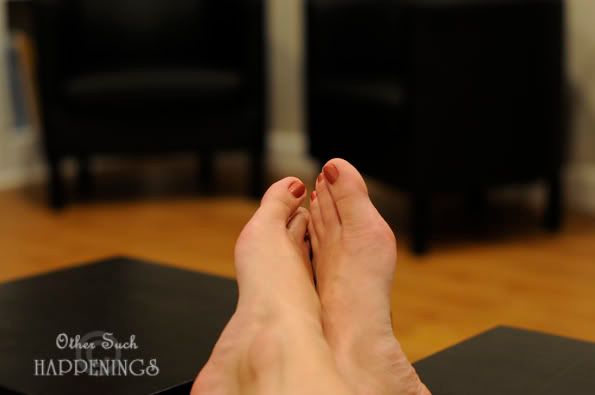 Then I had to laugh.
Come on, like *I* would pay $50 for someone to paint my toenails!!!

Besides, I already told him that I had it done at *cough* Wal-mart *cough*. The spa pedicure was only $20.
(Don't be hatin' with your horror stories of infections and general grossness. I would have you know that Royal Nails sterilizes their instruments, thankyouverymuch.)
Okay, 'fess up now. Are you proud of me for getting a pedicure? Or do I lose major points for it being at WM?
PS Aren't my chairs cute?! :)
PPS Aren't feet impossible to photograph in any sort of natural stance?
PPPS What does a pedicure go for in your area?