How can something the size of a lime kick my butt so much?!
I have been the most un-fun aunt, mommy, wife, daughter and friend. Besides flying to New York, Texas, and back to Guam again, all I have done is eat, sleep, sleep, be nauseous, and lay around.
I barely have enough energy to scroll through FB on my phone.
But I did attempt a picture.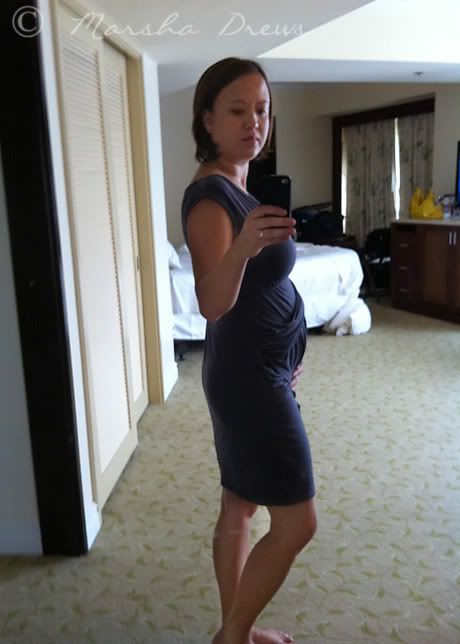 10 weeks, 4 days
Be honest, doesn't my belly look big?
I know I had a bigger belly to begin with than with any of my other pregnancies, but yowzers! So much for the "Your lower abdomen is probably just starting to protrude a bit now" that my
WhatToExpect pregnancy app
is telling me.
RANDOM PREGO THOUGHTS:
- I wonder how early this baby will arrive? I am due 2-22-12. Austin was 2 wks early, Noah 5 wks early, and Christian was 3 wks early.
- What I wish I could eat right now? A cold salad with thinly sliced ribeye steak (cooked medium, chilled) with balsamic vinaigrette dressing. Mayo is gross. Mustard and jalapenos are yum.
- I wonder how different labor will be at 36 years old compared to 29 years old when Christian was born. Anyone want to chime in with their own experience?
- Two delivery options here in Guam
. The one hospital where you don't ever want to go when you're sick but people say it's okay to have a baby there... and a birthing center that offers pain management (I guess it's wishful thinking to think that means epidural?). My ob/gyn delivers at both... I am leaning towards birthing center since it would be more comfortable for my boys, but man, I did love my epidural with Christian! Never had it with Austin and wanted it but didn't get it with Noah.
Even though I am on my laptop in bed, it's time for me to rest again. Bleh. We are still living in the hotel... 2 months and counting... but our household goods should arrive on island tonight. A week to clear customs and then we are outta here! I can't wait to be settled, have a kitchen, our own space, that beautiful view...
Hey all you older moms or those that have a big gap of years between your kids (like you Heather!), any advice to share?