I am always on the lookout for well-written books that would appeal to my boys. No Avonlea or Grandma's Attic for us! Nope, we need more adventure to capture our attention.
While our usual genre is historical fiction, I was excited to receive a copy of a
science fiction
book to review--
Robot Wars: Death Trap
by Sigmund Brouwer.
Death Trap
is the first book in the Robot Wars series that chronicles the adventures of 14-year-old Tyce Sanders. Tyce is a virtual reality specialist that lives in an experimental science station
on Mars.
From the very first paragraph, Austin was drawn into the story of Tyce, robots, aliens and the how the space station is running out of oxygen. I asked Austin (10yo) what he thought of the story.
"I really liked how he could control a robot with his mind! I can't believe they had a space station on Mars. I think the creepiest part was when..."
Sorry, I had to leave out the rest of what he said. I don't want to give the story away!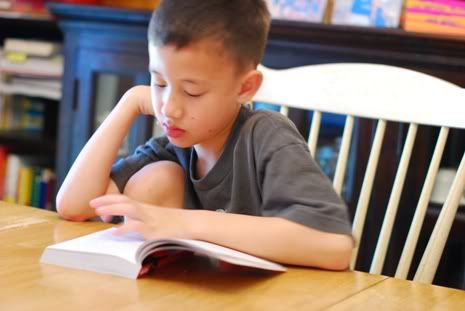 I will say that *I* enjoyed reading this book as well! Not only did I find the story to be modern and exciting, but the personal relationships in the story were both interesting and complex. Like they would be in real life.
Tyce struggles with his belief in God-- a struggle that is all too common in those that have a love of science and an interest in the vastness of the universe. This is not a preachy book where God is oddly and overtly plopped right into the middle of it all. Rather, Mr. Brouwer weaves faith in a logical and natural way in the story. Much like how we as Christian parents would and should breach the subject with our own children... naturally, not forcibly.
I think this book would make a great gift for your tween, teen or reluctant reader. While I was given a complimentary copy of this book to review, we will definitely be purchasing the rest of this series for Christmas this year!
Did I mention that it only took Austin 2 days to read this 267 page book? He was that interested in it.