After writing
Christian's birthday post
, I had an entire week that was full of just plain joy. It was like breathing the air of summer after months of winter.
Thanksgiving came and I was still full.
Later that afternoon, Austin was hovering around me and constantly giving me hugs and telling me he loved me. While much of this is normal for my affectionate 10 year old, there was a quietness about him that told me something was bothering him. When I asked him what was wrong, tears immediately filled his eyes. He squeezed me tighter.
I just miss Christian! He was such a good brother! No matter what we're doing, I think about him all the time!
*sigh*
Me too, baby.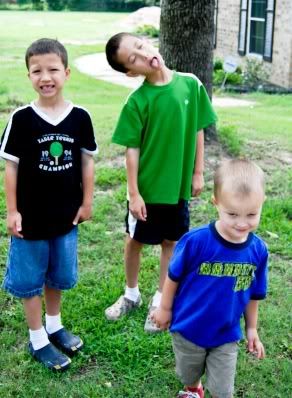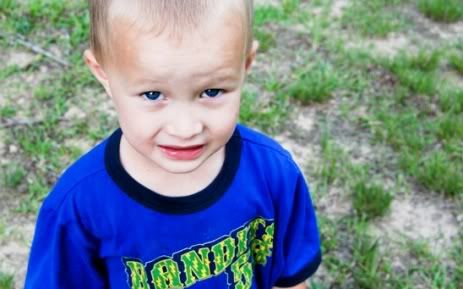 I have a whole list of things I miss about Christian...
-How he'd say "Awww... dang it!"


-His constant shooting sounds.


-Always playing with the water hose.


-The door slamming in the hallway and him shuffling up to us with his thumb in his mouth and blankie in his hand. Then he'd say "Can't sweep. Boys make too much noise!" No matter that his brothers were already fast asleep!


-He would always correct me if I accidentally said "Here you go, baby." His reply was always "I big boy. You fowgot, mommy!"


-Whenever David was home, Christian would be sure to ask me "Are these my work clothes, mommy? I need my work clothes!" He was always daddy's little helper and buddy, especially while the big boys and I were having school.
I think my list could go on forever.
I have many friends that are mourning the loss of sons, husbands, and parents right now. This will be their first Christmas with their precious family member missing. I am sure they too could write an endless list!
No words of mine can take their hurt away. Only Jesus can give them peace in their hearts and joy in their sorrow. Sometimes God uses other resources to comfort, like this poem from Streams in the Desert today.
E'en for the dead I will not bind my soul to grief,

Death cannot long divide.

For is it not as though the rose that climbed my garden wall

Has blossomed on the other side?

Death doth hide,

But not divide;

Thou art but on Christ's other side!

Thou art with Christ, and Christ with me;

In Christ united still are we.
I can't hold Christian's hand right now or feel the weight of him in my arms. No more tickles, water balloons or jumping on the trampoline. No more sneaking into our bed in the middle of the night or exclaiming how his thumb is wrinkly like a raisin.
Still, I am thankful for the memory of those tickles and giggles, the wet of the balloons and the funny spazziness of his bounces and games on the trampoline.
There is one thing that we do have, that we can do together-- and that is to worship and praise God! If we know Christ personally, death does not divide! This is but a temporary separation.
For we have not an high priest which cannot be touched with the feeling of our infirmities; but was in all points tempted like as we are, yet without sin. Let us therefore come boldly unto the throne of grace, that we may obtain mercy, and find grace to help in time of need. (Hebrews 4:15,16)




By him therefore let us offer the sacrifice of praise to God continually, that is, the fruit of our lips giving thanks to his name. (Hebrews 13:15)




And ye now therefore have sorrow: but I will see you again, and your heart shall rejoice, and your joy no man taketh from you. (John 16:22)
When your heart is bursting with grief, offering up praise is a sacrifice. It is a sacrifice in that we must look past our hurting heart, past the here and now. Yes, we have sorrow now but one day our faith will be sight! Our hearts shall rejoice! And that joy no man can take from us.
Let us praise Him and thank Him in all things. This is how we FIGHT FOR JOY!!!