Cease and desist on the rolling of your eyes at the title of my post. You
know
you love yourself some bullet pointed (bulleted point?) wrandomness!
+
Sometimes I am not the only girl in the house. It's fun to do girly things like crafts and painting and baking. I know that you can do this kind of stuff with boys too, but it's more peaceful with girls.
They don't make sound effects.
+
Do you think it's sad to be completely excited over a poster?
What if the poster was
this one
? (Or dost thou discriminate against all-things-geeky?)
I am going to get this for my boys.
I am even going to wrap it.
I am going to PUT IT UNDER THE CHRISTMAS TREE.
Not to worry, it'll be a more attractive gift when I throw
these
into the bundle to use as placemats!
(You may now breathe your collective sighs of relief. You're welcome.)
+
I thought it was
momentous
to leave my boys at home alone so I could go get donuts the other day.
Karen
has me beat though. Her 9 year old left today to go
to the Congo
for a
month
! But he's going with his daddy so no need to worry about all of that unaccompanied minor stuff... or that it's a very long flight to Africa(!). I love missionary families-- their sacrifice and courage and willingness to give all to tell others about Jesus. And most of the ones I have met are fun and interesting and complete awesome-neighbor-material! (Are you reading this,
Amy
?)
+ Christmas cards might be a complete no-go this year. I just can't work with these people!
David looks really mean. And Noah? Very thrilled to be here.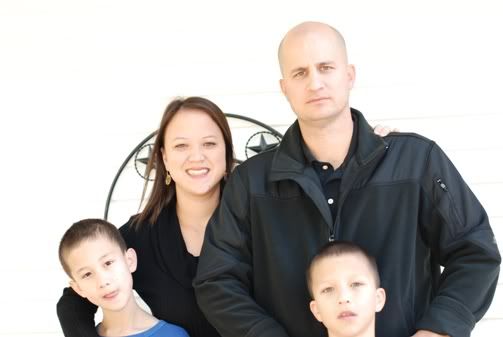 Too bright! Too bright! And Noah? His poor head is almost cut off.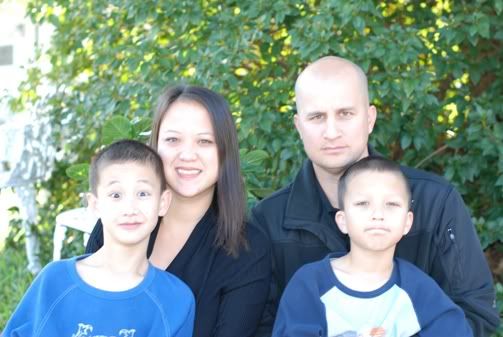 Too blurry, too bright and too goobery. And Noah? He blends into the crowd with this shot. (Austin? Don't ask.)
Ah well. At least it's proof that the poster of the Periodic Table of Elements isn't so far fetched of a gift idea after all!