Y'all are such fun friends!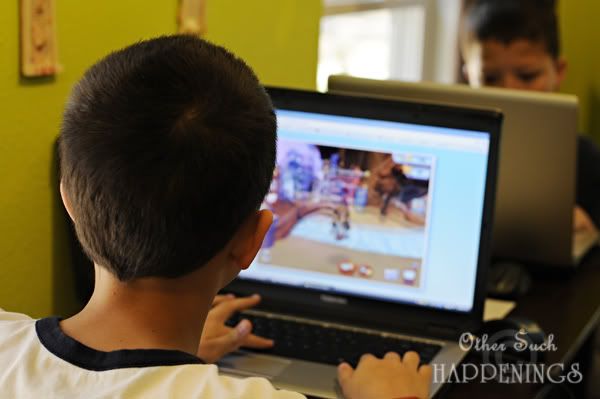 We have a
token system
in place for our video game and computer time. The boys must read 30 minutes to earn a token that awards them 30 minutes of game time.
However, there is one game that I don't mind bending the rules and giving them FREE time for--- the 3D virtual world created by the folks at JumpStart.com.
While I was familiar with the
JumpStart
computer games for toddlers and elementary aged kids, I was excited to find that they had launched a
browser-based virtual world
for kids 3-10 years old.
It's an online system that is safe, educational and FUN, even for my boys that are used to the excitement and gameplay of the Wii and Xbox 360.
Austin and Noah's favorite area is the shipwreck lagoon. You get to choose and customize your own boat, pick your track, and race against other people online. Nothing like a little competition to perk up your day! Especially when you get to compete with kids that are of the not-your-brother variety. :-)
My boys have also enjoyed creating their own Jumpee. A Jumpee is their own personal character that they have created to use on the site. They get to choose their Jumpee's facial features, clothing, accessories, artwork and even pets!
When I was little, we had Space Armada and Burgertime on our
Intellivision System III
. Technology has sure come a long way!
Austin and Noah are 11 and 9yo. JumpStart also has areas aimed at the younger set, such as StoryLand for 3-5 year olds, AdventureLand and MarineLand designed for K-2nd, and FutureLand which is geared towards 3rd-5th grade. You can see and read more about this at the
JumpStart blog
.
Now for the giveaway part.
JumpStart.com would like to give one of y'all a free three month membership!
To enter, leave me a comment telling me what your fave game as a child was. It can be a video game, board game or even chase-in-the-yard game! :)
I'll random.org a winner on Tuesday, November 23rd.
For the record:
Fave childhood board game: Candyland and Stratego (obviously at different ages!).
Video game: the aforementioned Burger Time and Pac-Man.
Yard game: definitely cartoon freeze tag! You get "unfrozen" when someone crawls under your legs and says the name of a cartoon... or was it that you say the name of the cartoon when you are tagged?...
My current favorites:
Facebook game: Scrabble
Phone game: Angry Birds
Card Game: Skip Bo
Board Game: Settlers of Cataan
Video Game: Don't have one.
Disclosure

:

I was provided with a JumpStart membership at no cost by Knowledge Adventure in order to test the products' abilities and give my own personal opinions on it. The opinions I have given are mine and may differ from others but were not influenced by the company or the free product provided.