It's a happy day when I get a rare glimpse into the mind of my mysterious Noah. Much of his life, he has been the quiet one of my boys, often keeping his thoughts and emotions inside. Every once in a while he would ask a profound question, but only after he had sufficiently pondered it.
Nowadays he can be quite the chatty-McChatster with his words and thoughts spilling out of his mouth, barely able to catch his breath for the excitement of having to tell you what's on his mind!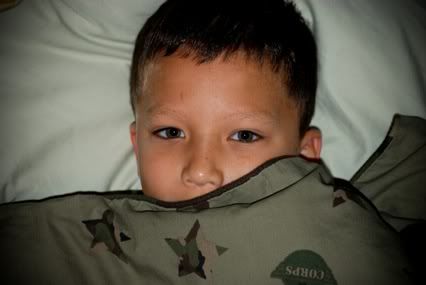 This morning, the silliness and funny that is Noah came out in the magical moments just after he woke up.
I had a weird long dream.

You and daddy were FAMOUS! Y'all had your own restaurant! And it had your own picture on it and the picture was made out of lightbulbs. I saw all of this when I flew over in a little airplane.

Daddy, you, Austin and I were on a boat in the sea.

There were a bunch of tires on the boat. We'd repair the tires but daddy kept getting seasick. Everytime he got seasick, the tires would break again.



Me: Why did you have tires on a boat? What did you need them for?



I don't know mommy-- I told you it was a weird dream!

Let's see... We even took baths. We'd jump into the sea but it would be just like bathtub water... nice, warm bathtub water! Then this storm suddenly came up and lightning struck right next to us. We had to take the boat and go hide in a cave.

And you know what? There were scorpions and bats and spiders on the ceiling of that cave!

It never did rain.
If your kids ever wake up remembering their dreams, write it down! There's something fun about saving odd and ends of a childhood like this... remembering the little moments, the little dreams (
even
especially if they're weird!)