We finally got some rain these past couple of days. It's amazing how a yard can transform from brown, scratchy grass to green and overgrown and full of these guys: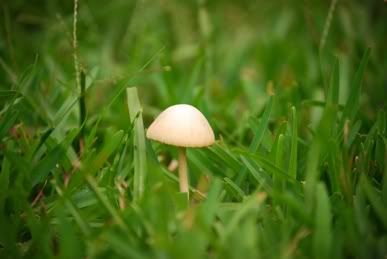 One day last summer, Christian and I were under the big swinging tree in the backyard where we spied a
giant
of a mushroom. It was seriously h-u-g-e, unlike that piddly thing you see up there. Christian was quite excited about the strange, squishy growth that was most definitely not there the day before.
Being the 3 year old that he was, examination and scientific study was
not
going to be on his agenda. Instead, Christian quickly ran to the garage and came back with...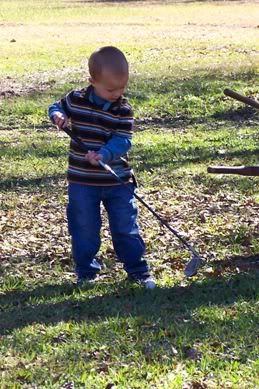 ... his favorite golf club.

Fooouuuuurrrr!!!
Does it get anymore redneck than
yard
golf? Oh wait. Around here it does. :)
I wish I had a picture of him from that day. It was his last afternoon here in our earthly home. But God knew then and He knows now that maybe I didn't really need pics from that day. Perhaps I'd look back on them with sorrow instead of remembering the joys of that day?
As for God, his way is perfect: the word of the Lord is tried: he is a buckler to all those that trust in him.
~Psalm 18:30
Anyhow, I can't help but think of Christian whenever I see a mushroom-- be it in the yard or at the grocery store. :-) He's the only one of the boys (including David) that would even take a taste of my homemade cream of mushroom soup. And I make good soup, y'all!
Oh, before I forget, I know David would appreciate me mentioning the
fact
that Christian hit that mushroom steady, straight and blew it to
smithereens
. He had some mad golfing skillz!