David and the boys have been on a Lucky Charms kick lately.
Back in the old days, I remember the ensuing hullabaloo when purple horseshoes were added to the mix. How could they even
think
of changing the classic marshmallow composition like that?!
But they did.
Then they massacred the recipe even more when they added
more
...
To make matters worse, they are trying to distract us with phrases like "Good source of calcium and vitamin D" and "whole grains."
WHATEVUH.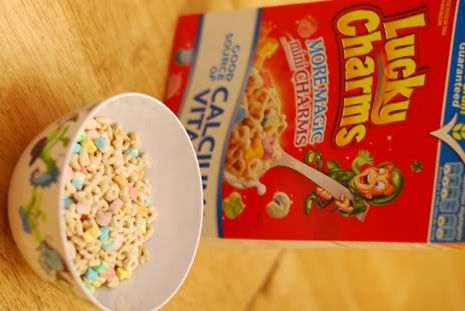 Three weeks of Lucky Charms for a bedtime snack inspired me to conduct a possibly frightening quasi-quackish-scientific experiment.
Just call me a health nut.

QUESTION: What is the marshmallow to cereal ratio in a typical bowl of Lucky Charms Cereal?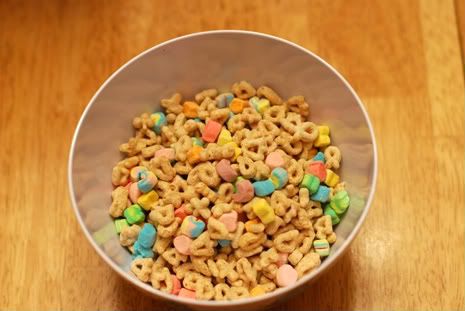 HYPOTHESIS: Approximately 8 years ago, I conducted a similar test with Frankenberry Cereal. My hypothesis is that Lucky Charms will yield similar results of a 50/50 ratio of marshmallows to cereal.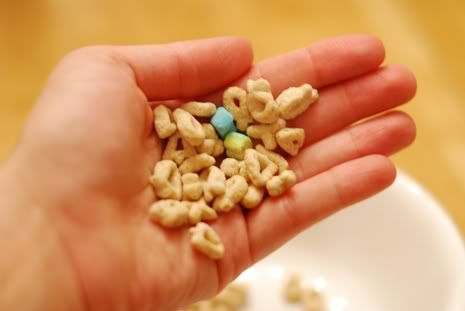 (Note to self: Do not audition to be a hand model unless it's for a robot hand.)
(Post-note to self: Be weary of saying or writing all of your spontaneous thoughts out loud lest people think ye are whacko.)
EXPERIMENT: Carefully separate the marshmallows from the "whole grain" cereal pieces, while exercising great caution as to not eat the materials.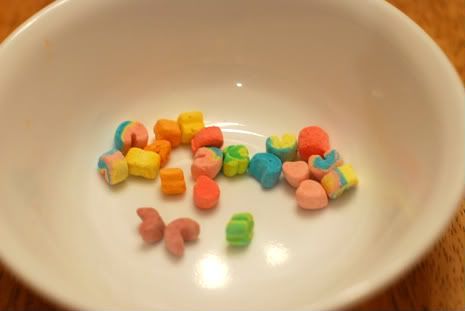 Hmmm... I wonder which bowl is hiding the "calcium and vitamin D"???
Halfway through the bowl, the ratio is neck and neck.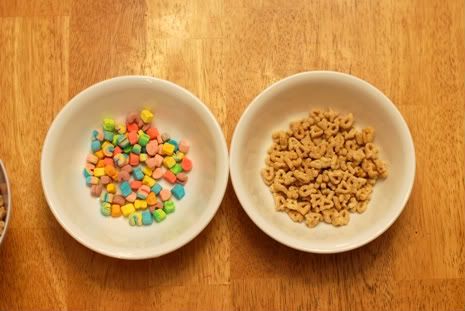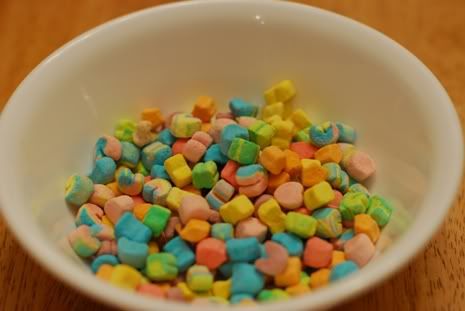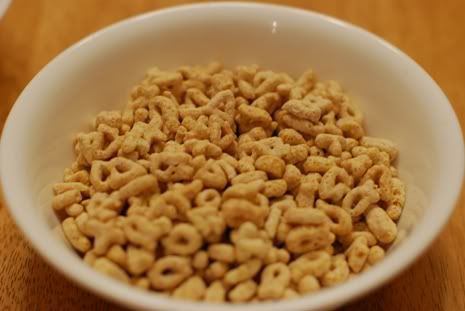 DATA ANALYSIS: My family's typical bowl of Lucky Charms contains more cereal than marshmallows.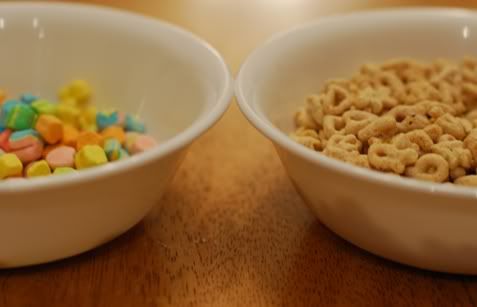 CONCLUSION:
I hereby conclude that Lucky Charms is healthier than my initial supposition. Consumption of said cereal at the Drews house may continue.
It's a lifestyle of learning, y'all.
And you thought Saturday nights at my house would be boring! I bet you are totally kicking yourself right now.