Believe it or not, it is not a fruitcake. Can you guess what it is?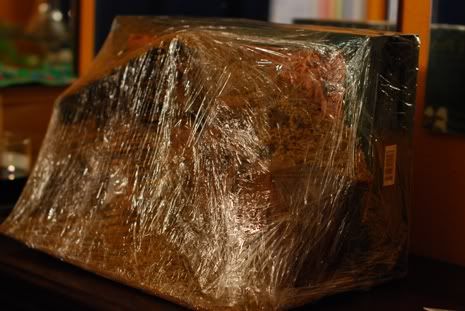 It is our nativity set readied and waiting to be put in the attic. (Bet you feel really silly now.)

When we took the meager decorations for this Christmas (two wreaths, one nativity set and one 18 inch pre-decorated tree) down from the attic, the overabundance of dust was killing me. My right eye was red, itchy and swollen halfway shut for 2 days.
It was so bad, people were staring at me in public.
And
not
in a you-are-a-hot-mama kind of way.
I have a secret weapon for avoiding this debacle next year.
First is to lose a little weight. Second is this...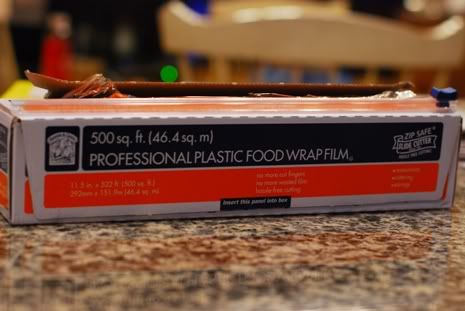 Plastic wrap.
But not any old plastic wrap,
nosirreeeebob
! See the word "professional" up there? Yup, that's me. A pro at wrapping. I am such a pro, you can almost sometimes let me demonstrate my expertise in a court of law. Fo shizzle.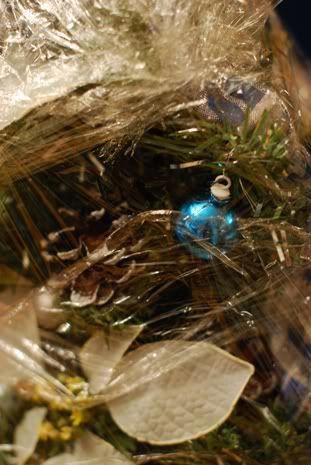 Safe and sound and snug as a dust mite in a Christmas tree skirt. This wrapped tree will then be stored in a red plastic bin (red bins are only for Christmas things-- makes it easier to find for next year). I'll let you know next year if it helped. Assuming I remember.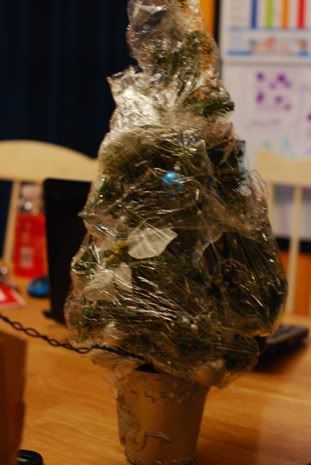 Don't be jealous that you didn't get this brilliant idea before me. You may borrow it if you like. They say that copying is the greatest form of flattery.
Have you put your decorations away yet? Are you a stickler like some people and have to have "Christmas" put away ASAP? Or are you the type that will be trying to convince everyone that these are very special "Valentine's Day" decorations?