A cheesy family favorite, this dish uses convenience items to make dinner a snap to prepare!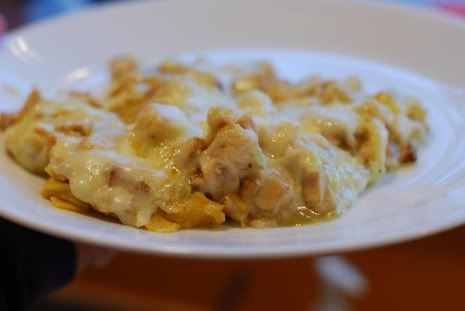 It's amazing how so few ingredients, can be combined to make kid and husband friendly gooey-goodness.
LAYERED CHEESY CHICKEN ENCHILADAS
Ingredients:
corn tortillas
16 oz cooked, diced chicken (I like to use fajita chicken)
16 oz shredded monterrey jack cheese
1 - 15 oz can green chile enchilada sauce*

Yield: one 8x8 pan (or double for 9x13 pan)
1. Heat oven to 350.
2. Spray bottom of an 8x8 square baking pan with oil.
3. Layer corn tortillas, 8 oz diced chicken, 1/2 can green enchilada sauce, 8 oz shredded monterrey jack cheese.
4. Repeat layers. For variety, you can use pepperjack for one layer, although it is too dry of a cheese to use on both layers.
5. Bake uncovered for 30 minutes.
6. Serve immediately. Would be delicious served with black beans and corn salsa!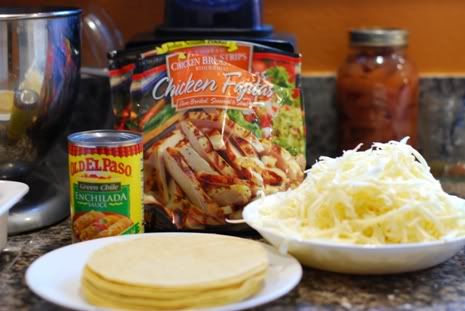 Cut the corn tortillas into squares. This makes it easier to dish out of the pan than a single round piece would be.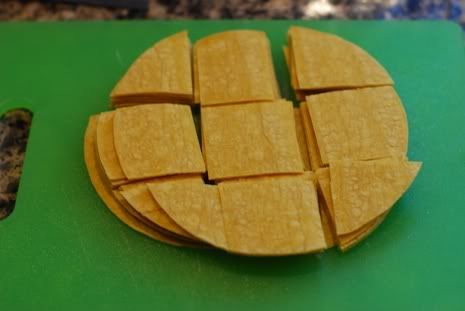 Place a single layer of the tortillas in the bottom of a greased baking dish. Look at how cozy the squares look. Since we don't want to discriminate, be sure not to waste the odd triangular-ish guys.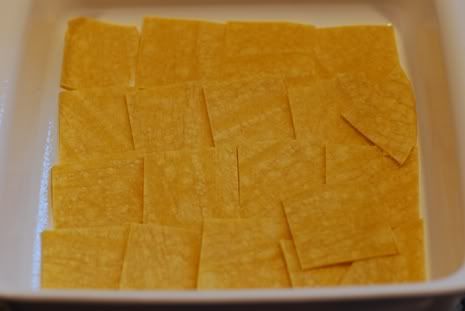 Add ze chicken. I like to use John Soul's Fajita Chicken Breast Strips.
(Anyone else have the Souuuuul Train song in their head now? Anyone else old enough to know what Soul Train is?)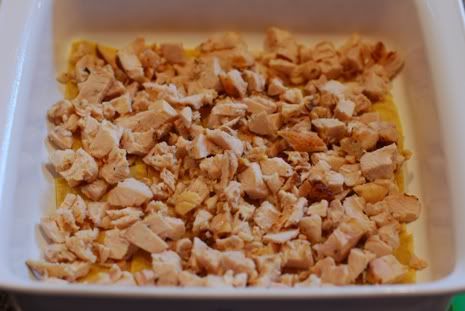 Drizzle half the can of green chile enchilada sauce evenly over the top.
*I use Old El Paso brand because it is a relatively mild green enchilada sauce. The Hispanic brands are generally spicier, so choose according to your heat preference.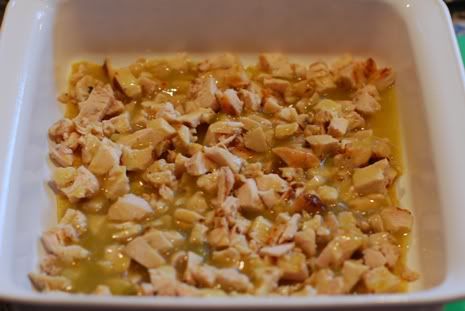 Now it's time to spread 1 cup of the shredded cheese. I like to use monterrey jack but you can do a Mexican blend or some pepper jack for a kick.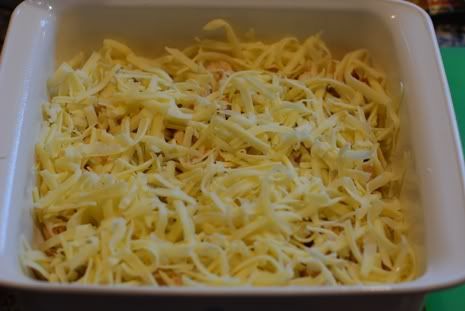 Repeat the layers of tortilla and the rest of the chicken, enchilada sauce and cheese.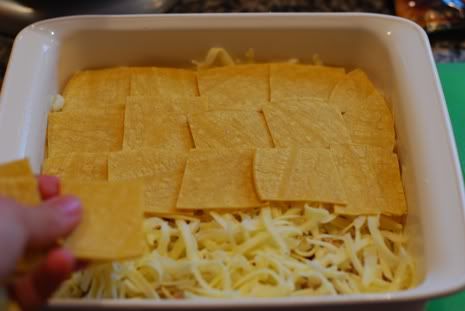 You can stop here, cover and put it in the fridge to bake later if you like. Just be sure to bring it to room temp or add extra minutes to the baking time.
If you are hungry, just pop it uncovered into a 350 degree oven for 30 minutes or until bubbly and hot.
Like me.
:snort:
I kid! I kid!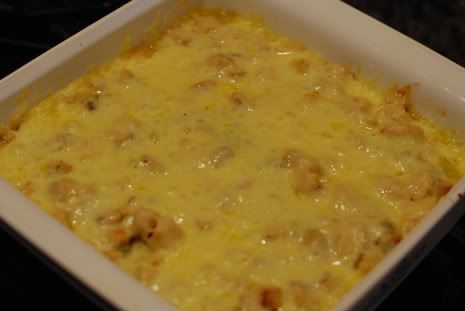 Serve immediately. Ideally, you would serve it with something fresh and healthy like a salad. But since we aren't fresh or healthy at our house, we just eat it with corn.
I KNOW. We are so very bad.
I think extra jalapenos, corn salsa or even black beans would make a nice addition. This is a rather gooey dish so if you can think of something crunchy to add, feel free!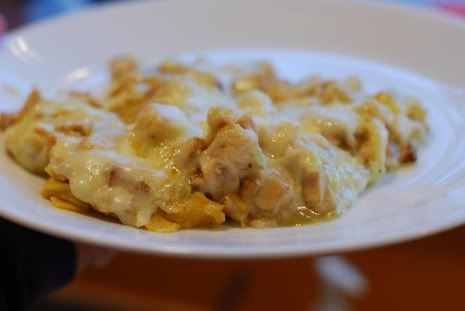 Enjoy this warm, ooey-gooey-goodness on a cold day. Or if it's summer when you finally get around to making this dish, just crank up the a/c and let me know if you like it or not.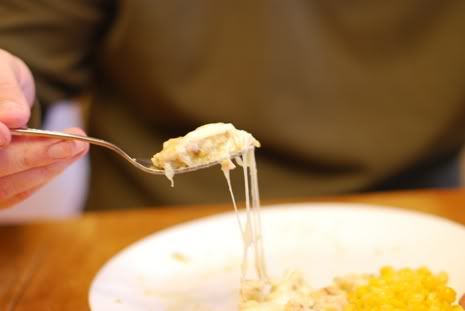 This is one of the few dishes that tastes just as good or better reheated than it does fresh out of the oven!