We are in the process of getting our house in order. Reading Tsh Oxenreider's
Organized Simplicity
was a swift kick in the behind! It is time to declutter, clean out and simplify.
While talking about the project ahead of us, David mentioned wanting to park cars in the garage. Imagine that, cars... in the
garage.
The IKEA shelves must go. Okay.
The air hockey table must go. Gotcha.
The foosball table must go. My throat suddenly constricted, eyes began to tear up.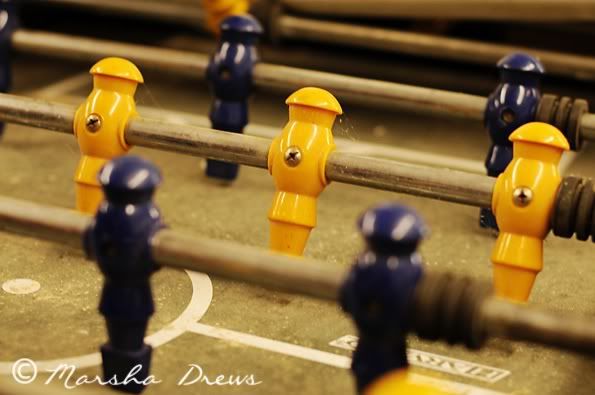 I was surprised to find myself crying. I have walked by that foosball table a million times and never gave it a second thought other than noticing that it is in the way and collecting dust. As soon as David said it must go, the memory of Christian at 2 years old popped into my mind.
Austin and Noah would often play foosball in the garage. They loved teaming up against daddy! Never one to be left out, Christian would climb onto an overturned plastic bin to get in on the action. I was always nervous that he would get jabbed in the chest with one of those handles. By the time he was 3, he was quite the little player on his own, laughing as the ball would race back and forth across the table.
So the foosball table is staying for now. We are going to clear a spot for it in the man-cave (aka our old school room and now David's TV and hanging out room). I'm sure it'll get much more use inside than it ever did outside. :)
While we look not at the things which are seen, but at the things which are not seen: for the things which are seen are temporal; but the things which are not seen are eternal.

-2 Corinthians 4:18
I do know that this is just a house. And that the foosball table is just a thing. They are not my Christian!
I don't ever want to get so attached to things that they dictate how I live, where I live or how we enjoy our space. It would be a shame to waste grief on stuff that has no eternal value. I can't take those things with me, nor would I want to. Heaven is way better than anything we can possibly possess here on earth!
If the foosball table were to disappear tomorrow, I would not be heartbroken. Sure I'd miss the memory jogger that it is, but the table itself is not the root of the missing. The root is Christian. Not a day goes by that my mommy heart does not long for the feel of him in my arms and the sound of his voice in my ears. It makes me praise God even more for the hope that we have through Jesus Christ! I know that this is not the end. There is more... much more... in due time.
Do you have things you are holding onto? Do those things have a hold on you?