I was eating a hot dog the other day and thought a bit of mayo had dropped onto my hand. So I did what any classy southern girl would do-- I licked it off.
Except it wasn't mayo.
It was this:
Blech! Patooie! Soap tastes gross, y'all.
Especially when I didn't even do anything bad to deserve it. Like the time I called my
sister
the f-dash-dash-dash word while sitting on the swingset in the backyard circa 1981.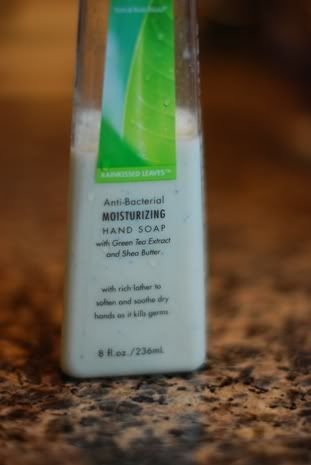 "Green tea extract" my foot! It did not taste anything like green tea. OR butter.
Have you ever had your mouth washed out with soap? If so, what did you do to deserve it?
(Or were you punished for saying a word that you really didn't know was bad, it just somehow came out of your mouth when your big sister made you really mad? If I told you that Dial soap tastes even worse than Bath & Body Works, would I be considered a connoisseur?)

And was there a real

washing

of the mouth involved or did you just have to bite down on the bar of soap a la Ralphie in "A Christmas Story"?