1.) I woke up singing "I Surrender All" in my head this morning.
What do I need to surrender?

I think I've surrendered all of myself already, but am I still holding on to something?

Am I going to be required to surrender something in the near future?
I know it shouldn't, but that last part makes me a little nervous.
2.) I keep the "In Memory" card of Christian in my Bible. I often stare at his face and into his eyes. I was looking at it this morning and thinking about how I would love to be in his company right now-- singing, reading, laughing, playing, teaching...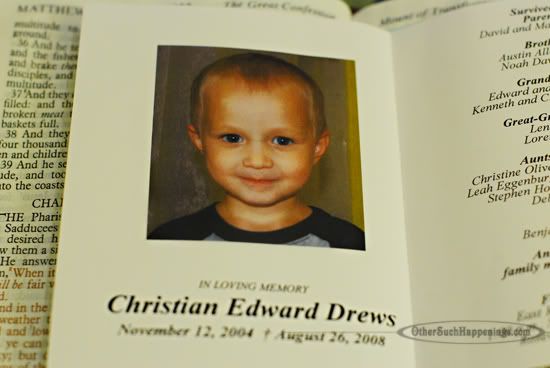 All of a sudden this thought came to me:
Is he not with the great Teacher even now? All that he is learning is from the Master himself! The One who does not lose His temper. The One who is not selfish with His time and attention. A mother wants what is best for her child, even if it means self sacrifice. I pale in comparison to Him.
Maybe it is these thoughts of Christian and what "I" am missing out on that I need to truly surrender?
Oh Lord please help me!
"And Jesus said unto him, No man, having put his hand to the plough, and looking back, is fit for the kingdom of God."
I want to be fit! I know it is okay and good to remember Christian. But I must not yearn for my life that was. It would make me useless to fight in the battle now. It would distract me from looking to God and to eternity. If your hand is at the plough and you walk forward with your head turned back, you are sure to have crooked furrows and not use the field set before you to its greatest potential!
Look forward. Labor for the Master. God makes no mistakes!