We have a plethora of chairs in this house. The first one I would like you to meet is my blue chair.
Hello, beautiful!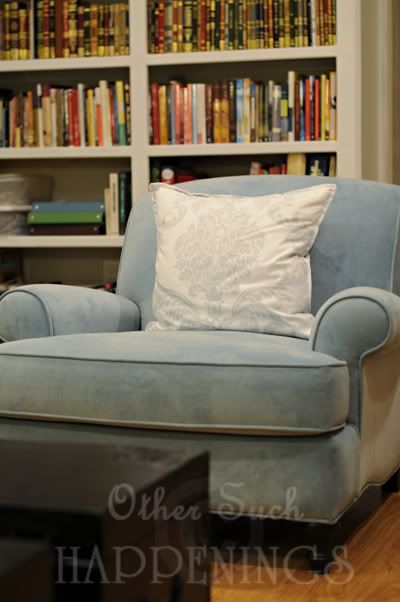 I love it, y'all!
Although it's not quite as comfy as a la-z-boy (did I spell that right?*), it is soft and pretty and pretty and pretty.

Did I mention that it's pretty?

This is my first real piece of girly furniture ever. I was able to pick what *I* wanted without having to consult anyone else or worry if it was too feminine or flowery or whatever. Woot woot!

It's a far cry from the maroon pleather couch set that we had when we were first married.
Does that make you cringe just thinking about it? What if I told you that the aforementioned maroon pleather set was accompanied by a fine set of smoked glass and brass trimmed coffee and end tables? Does it make you love the pleather set more or love it less?

We sure have come a LONG way in the past 14 years. Too bad I don't have a pic of that pleather set... or maybe that's a good thing.

Looks can be deceiving when it comes to chairs. Take this chair for example.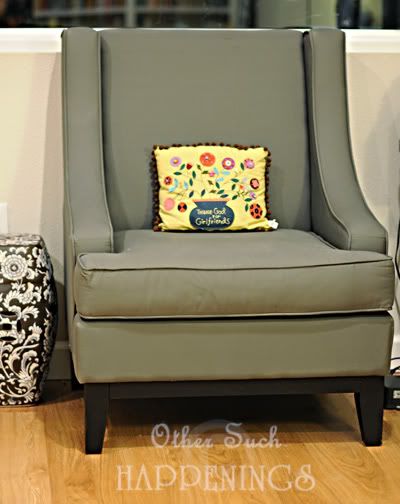 It looks nice and functional. But what good is a chair if it is without a doubt the.most.uncomfortable.chair.on.the.planet?
Finally, we have this sad sad sad sad sad piece.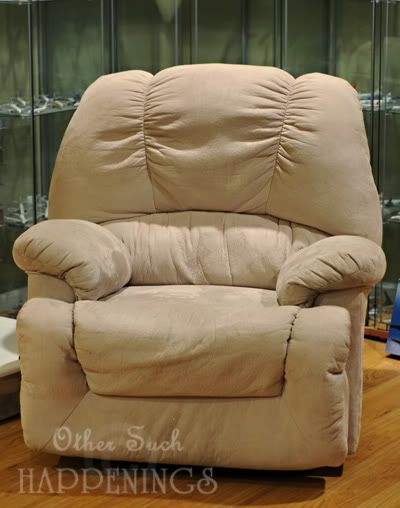 You can tell by the magnitude of its ugliness that it is the most comfortable chair in the house. Why must it be so ghastly to merit exile?
Do you have a favorite chair? Do you like it because it is pretty or because it is comfortable? Do you want to come over and take this ugly chair off my hands? (just don't tell David.)
* The irony of this is that I didn't catch my typo of asking "did I spell that write?" until right before I hit publish!