I have written 3 or 4 blog posts since last Tuesday but haven't had the peace to publish them. Posts about grief, Christian, fears... heavy stuff like that.
When my mind gets all serious, overwhelmed and pondering (ponderous?), I tend to do one or two of three things:
1. have an inspirational moment where the words flow.
2. maintain blog silence.
3. play too many dumb games on Facebook.
I am choosing to break the silence and change direction with some mindless random banter to clear my head. I thank thee for listening.
In addition to the wastebook games, I also like to play Angry Birds on my phone. While lying in bed, tired but not wanting to GO to sleep. I just want to BE asleep and it be tomorrow already. I have completed all the levels and now it's time for a new game.
Do y'all have any mindless game recommendations to play on my Droid phone?
I would prefer something that is not like Tetris or Sudoku... I have this issue with getting addicted and looking at objects/buildings/skylines and seeing how I can flip them to make them fit correctly. And when I first learned to play Sudoku, I had issues as well. Every time I would see numbers, I would visually scan them and move them around from 0-9. This after playing for only an hour!
We are heading to Guam on the 10th-ish.
You already thought we were there, didn't you? David flew a trip there and is now heading back to Houston. I'm glad he was able to scout out the place and give me the scoop.
Good News:
1. Korean restaurant across the street from the hotel!!!!!!!!!!!!!!!!!!!!!!!!!!!!
2. Small refrigerator in the room.
3. Coin operated laundry ON SITE. I had visions of having to lug our laundry on the bus to find a laundromat. It's $2 to wash and $2 to dry, but I'm told they are commercial size. I hope it's true! Either way, I'm incredibly happy to hear that it's only a few steps away from our room.
Bad News:
1. I thought there would be a full sized refrigerator and microwave in the "crew room" at the hotel. Nada on the fridge and the microwave is teeny tiny and ancient.
Pretty cool to only have one thing listed on the Bad News list! :)
- Kindle arrives tomorrow.
Very very very excited. Plan on buying books with my
Swagbucks
! 450 points gives you a $5 amazon gift card and most Kindle books are under $10.
No proof of such a gift remains.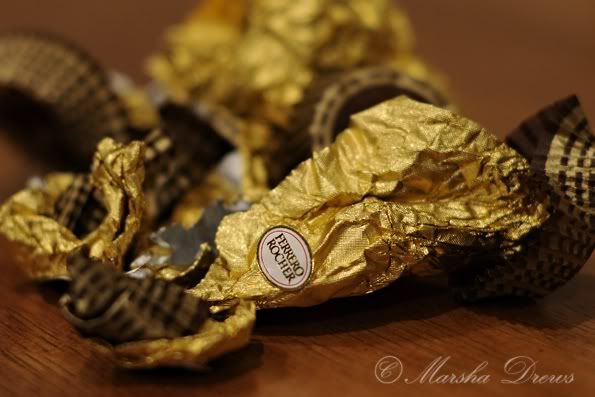 (Surely) I shared one or two.
- I searched my blog for a picture and information from when we visited Guam in 2004. It took me a while to realize that I didn't start blogging until 2005.
What?! I went somewhere major and had an adventure that I didn't publish online- not on my blog and not on Facebook? Mind boggling. Really.
- My niece Lucy turns ONE next week! Do y'all have any good gift ideas? She doesn't really need toys since we just had Christmas. Consideration must be made for the fact that my sister lives in an apartment in New York. Very super limited space.
Now it's your turn!

1. Mindless game recommendation to play on my Droid?

2. Do you have a Kindle? Like it, waste of money or can't imagine not having real paper books?

3. Ferrero Rocher. Did you get some for Christmas?

4. Where were you in the electronic data scope of things in 2004?

5. Gift ideas?
I love all of y'all. You know that right?