I saw over at
Melissa's blog
that Meredith is doing
10 on the 10th
! While I don't think I can come up with a theme of 10's, I
can
come up with a list!
I love me some lists. Especially when I can mark out all the "done" items with my Sharpie. Because a line with a regular old pen doesn't feel quite as completed or final as the bold line that comes from a fresh, saturated Sharpie marker!
TEN THINGS THAT HAVE BEEN ON MY MIND THIS WEEK:
1. I laugh when I have to tell a certain someone "There is no fighting in Chess Club."
2. I laugh even more when that certain someone is the only kid I know that would require first aid due to injuries sustained in CHESS CLUB!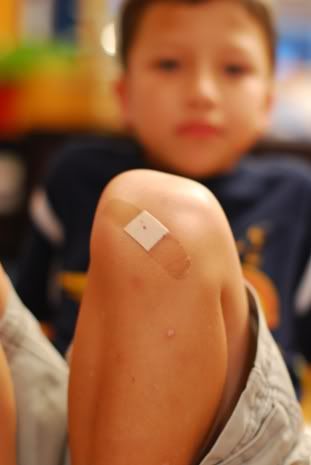 3. I wish there was a fun song about
persimmons
like there is about beans.
Beans, beans, the musical fruit.
The more you eat, the more you toot.
The more you toot, the better you feel.
So eat more beans with every meal!
4. I have had songs from The Sound of Music running through my head this week. First from
I Heart Faces
and their
My Favorite Things
theme. And then whenever I visit my friend Lainie at
MishMashMaggie
. The web names for her kidlets are Leisl, Brigitta and Kurt. Does that not force you to come up with ALL of the Von Trapp children's names?
5. And NO CHEATING by googling it! Go ahead... I can wait. I have often called my sisters in the pre-google days because trying to remember the names was driving me CRAZY.
6. I had to throw away an entire chuck roast today because it was hiding in the back of my fridge, still in the Kroger bag. I hate wasting, especially meat!
7. I am a stickler when it comes to expiration dates on meat. That and #6 is the reason why I am cooking babyback ribs at 10:00pm on a Saturday night.
8. If you bring some beans, I'll share the ribs. We can have a magical dinner together. :snort:
9. We listened to the audio version of "A Cricket in Times Square." I was not impressed. I mean, it was entertaining and good enough for driving around town, but it wasn't stellar (like Narnia, My Father's Dragon, By the Great Horn Spoon or Henry Huggins). I really am shocked that it is included in so many book lists!
(There is such pressure with #10. I feel like it HAS to be better than all the others! Like the piece de resistance. But this is all I could come up with, so adjust your expectations before continuing.)
10. Twice this week, my boys have BEGGED to have ramen noodles for dinner. Honest. I said okay but told them not to turn spoiled by such magnificent feasts from my kitchen.