Do you ever read something that really strikes a chord with you?
Something that makes you want to point and jump and yell "Yes! That is EXACTLY how I feel! I just didn't know how to say it!"?
"For I am in a strait betwixt two, having a desire to depart, and to be with Christ; which is far better:




Nevertheless to abide in the flesh is more needful for you."
That is where I have been this past year, that is where I am now--
betwixt the two
.
Sometimes my balance will shift wildly from one side to the other before settling into an uneasy equilibrium.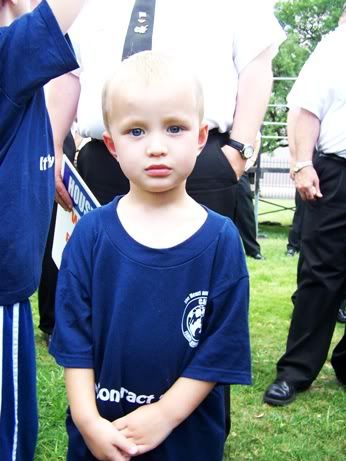 You see, my vision and hopes look to there-- to Christ, eternity, Heaven, being reunited with Christian, being reunited with other beloved family members and dear friends, DEPARTING TO BETTER.
And yet my feet are planted here with my husband, my Austin, my Noah... where I can be of service to God until He calls me home.
It's not that here is horrible. I have an amazing husband and kids and an incredible life! I am closer to God than I have ever been and I have a renewed appreciation for an eternal perspective.
I guess I'm just tired. Tired of missing Christian. Tired of crying. Tired of my heavy heart. Of being burdened for hurting friends and lost loved ones. Tired of worrying about my boys coping. Tired of being strong. Tired of being weak. Emotionally tired.
I am not depressed. But reading that up there does make me realize that perhaps I am too ME minded right now.
I need to think more about HIM.
I will lift up mine eyes unto the hills, from whence cometh my help.

My help cometh from the LORD, which made heaven and earth.

-Psalm 121:1-2
I want to be where God would have me be and right now, it is here. My thoughts often wander to yesterday and my dreams anticipate there, but I am here.
In this day.
I will rejoice in this day that the Lord has made. I will be glad in it-- no matter if the day be warm and joyful or dark and bittersweet. I want to have His sweet peace in my heart and to glorify God in every situation, every circumstance.
Right here.
One day we will know and say "God knew best." If we will only walk by faith and not by sight!
One day the curtain will be lifted, questions answered, and faith rewarded. God will never disappoint. So take courage, never lose hope, and keep looking up.
-Ruth Bell Graham
What will you do while you are here? Will you lift up your eyes to the hills no matter how low or hopeless your situation might seem?
Don't give up. Finish this race. Finish it well.