This is one of my favorite things to grill all year long. It is almost as easy as cooking in the crockpot... with much tastier results!

BBQ Babyback Ribs
Prep time: <5 minutes
Cook time: 2 hrs plus grilling time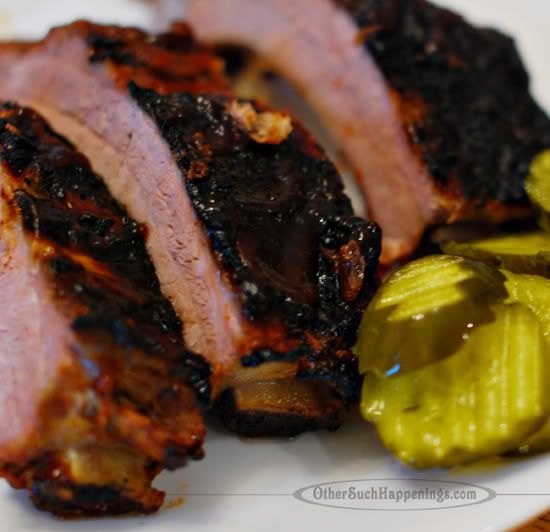 Here's what you will need:
- 1 rack pork babyback ribs (or the more economical 3 pack from Sam's Club)
- Sweet Baby Ray's BBQ Sauce
- Foil
1. Heat oven to 300 degrees.
2. Cut the rack in half and place in a 9x13 pan lined with foil. I know that some people like to season or rub the ribs, but I find that it makes it way too salty. If you use good sauce like Sweet Baby Ray's, no extra spices are necessary.
3. Cover tightly with foil.
4. Bake for 2 hours.
Tick tock.
Play, nap, read, do whatever in the meantime!
5. Remove from oven. I'm sure I should stick some temperature guidelines here so you don't get sick from undercooked meat. But seriously, you know when it is done. The meat will almost fall off the bone when you transfer it to the grill-- so be gentle!
6. Heat grill. I also like to spray the grill with some high heat grilling oil to keep the ribs from sticking.
7. Baste ribs with sauce and place on grill. Remove when the sauce is nice and caramelized. :) I prefer mine a little scorched. YUM!
Don't forget the extra napkins!
To see other grilling recipes or to join in on the fun, visit Robyn at
Our Homeschool Home.