In the world of Captain Underpants and
Wimpy Kids
, I am loving that my boys are loving these other books too!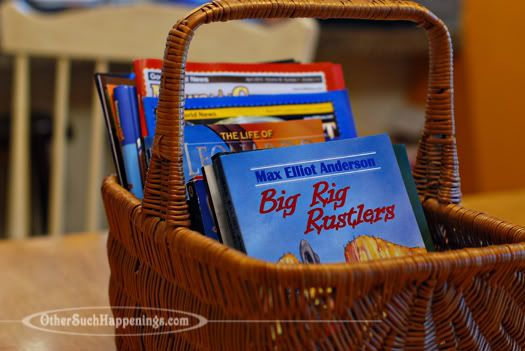 Max Elliot Anderson
- I am sad that my boys think the Hardy Boys books are b-b-b-boring. However, they are enjoying and DEVOURING the thrilling mysteries and adventures by Max Elliot Anderson. Maybe this will make them give the Hardy Boys another chance?
Stories from History
- 11 Graphic Novels; this set was only $16.95-- interesting and affordable! They have read each of these several times
just because they liked it
. I like that random historical tidbits will pop into their heads during our lessons or that they will be sitting there just thinking about something that happened to Anne Frank, Leonardo da Vinci or Khufu.
God's World News Magazine
- These magazines make for very good breakfast reading. :) My boys like the pictures, puzzles and topics. I like that it is has a Christian world view and is a great springboard for discussing current events.
(I saw this mag on your blog first,
Ruthanne
! Thanks!)
Do y'all have any book suggestions that I can add to our reading basket? We're almost done with the whole thing! Need. more. books. pronto.
Head on over to Cheryl's at Tidymom to see
more I'm Lovin' It entries
.