I had a short but sweet dream about Christian this morning. I want to write down what I can before it fades from memory...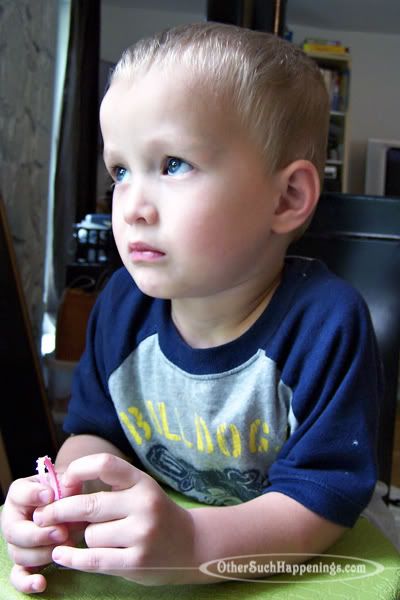 Austin and I were crying together when Christian suddenly appeared standing next to us. When I saw him, I knew he had died and had somehow come to be with us for a little bit.
(For some reason this is important to me... to not dream a dream, but dream a slice of reality- if that even makes sense).
I picked Christian up and held him close for a while. He seemed so big with his arms around me and his legs hanging down below my waist. My arms become a little tired with the weight of him.
He was wearing a gray shirt with blue sleeves.
Austin came closer, gently touched Christian's leg and sweetly said "Hi, Christian!!!"
When I finally found my voice, I remember saying "Oh how I've missed you, Christian!!!"
He answered very matter of factly, "I in Heaven now, mommy."
I asked him if he liked it there. I really wanted him to stay with me now. I really wanted him to say that he missed me.
He looked off in the distance like he often did and simply stated,
"I have fwiends there, mommy."
I knew right then that he was going back and that he would be waiting until I joined him one day.
Suddenly he was gone again… my arms empty. I fell to the ground in a crying heap and wailed out loud, hardly able to breathe.
And then I woke up.
I don't know why Christian said what he did in my dream. It's not like I have been worrying about him in Heaven! I do find it comforting that he said he has friends there. :) The thought never occurred to me before but now, just thinking about it warms my mommy heart.
David told me that he's glad that I had the dream. It had been a long while since I had a dream. It's almost as if we are a little jealous of the other being able to see and talk with Christian in our slumber. For some grieving parents, dreams are something to be dreaded. The waking up from the dream and facing reality is torture. But for us, the dreams are a gift... I have woken up feeling the weight of him in my arms, the feel of his soft cheek on my lips, the sound of his voice in my ears. Things that are impossible to imagine at will sometimes.
Christian is gone.
But I know I'll see him again. And it won't be in a dream.