I have mentioned before my
plans
to exercise. Today, hard to zip clothing and the upcoming
Blissdom Conference
have spurned me into action!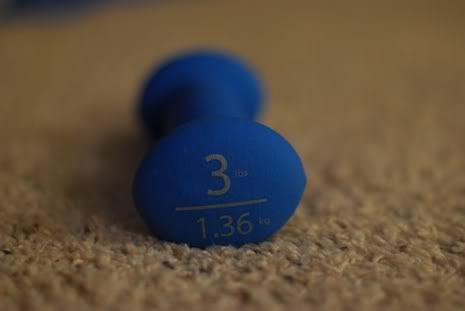 I unwrapped the DVD, dusted off the old 3lb hand weights, and pushed play.
Let's pause and reflect on that profound statement for just a moment.
Still pausing...
Okay then.

I am glad that Jillian couldn't see me for real. I was pathetic, y'all! I just couldn't hang with her 20 minute workout, often finding myself sitting down for just a second, trying to give my arms and legs a little break from that "good" burning feeling.
You know it's a rough workout when you are looking forward to the ab part because that means you can lie down for a while!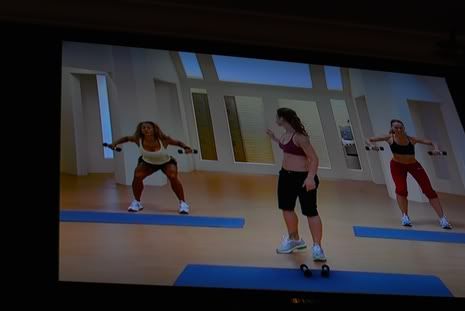 [Hi, Jillian. Sorry I couldn't join you during this portion of the workout. I just couldn't get up and get going like Anita and Natalie. I realize I could never be your BFF. And I'm okay with that.]
***
Austin and Noah dared to walk in at one point to say "Jumping Jacks? That doesn't look very hard!"
My witty reply? "Yeah, you try doing jumping jacks 15 minutes into this workout!"
Woot! What a zinger. Apparently exercise drains the power from my brain and reroutes it to my muscles.
And that is why I have a hard time exercising. *bada ching*
***
My post-workout lunch consisted of chicken fried steak, cream gravy and potatoes. I hope it didn't cancel out any benefits I gained from exercising.
Yikes, Jillian would NOT be happy! But really, what is she going to do? Kick my butt more than she already did today? My arms and legs are like Jello.
I know
Emily
has done the 30 day Shred before... Has anyone else? Did you see positive results?
Just in case I decide to throw the towel in, can any of you recommend another workout DVD that won't bore me? I can be such a quitter sometimes. But don't worry, Jillian. I'll be joining you again tomorrow.
I think.