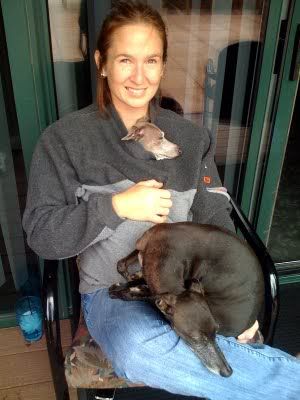 This is my friend Andrea and her little guys Artimus and Gollum. We have been friends since the 5th grade, but grew apart as we got older.
This past year, God allowed us to get together again and reestablish our friendship! We have kept in touch over email, texts and
blogging
. :) I had planned to get together with her during my next trip to my parents' house...
Andrea passed away this past Monday in a drowning accident.
(How I hate even writing those words out!)
I ask your prayers for her family and for her husband Tom.
Andrea's great laugh, beautiful smile, happy eyes (they were the twinkly kind) and compassionate heart will be greatly missed by myself and many others.
I am reminded yet again of the fleetingness of life, the sorrow in this world, and always always the hope and
salvation
that can only be found through our Lord Jesus Christ.
But I would not have you to be ignorant, brethren, concerning them which are asleep, that ye sorrow not, even as others which have no hope.




For if we

believe

that Jesus died and rose again, even so them also which sleep in Jesus will God bring with him.

- I Thessalonians 4:13,14
Do YOU believe? Do your actions and life prove otherwise?