I have been so weepy of late. Melancholy. Tired. When I'm not crying, I am trying to keep from crying.
On top of that, I realized that this past year of 2009 began and ended without my Christian.
That just stinks like nobody's business, y'all!
Around 4am on January 1, 2010, I had a dream. A glorious one that I feared would end. Subject of that dream? Yup, Christian!
I was here at home and heard these noises-- quiet shooting sound effects like Christian would make (think semi-whispered pow pow pow). My heart raced with excitement! I knew he was gone from us and I recognized it was a dream-- and yet I knew that having him IN my dream was a
gift
from God! (In the past 16 months, I have had 4
dreams
total
about Christian.)
I walked toward the noises, heading into our kitchen/dining room area. It is there that I saw him!
He was standing there, slightly turned away from me. I
KNEW
IT WAS CHRISTIAN!!! He was wearing navy blue athletic pants and a gray turtle neck. His blonde hair was very short as if I had just given him a haircut (like
here
).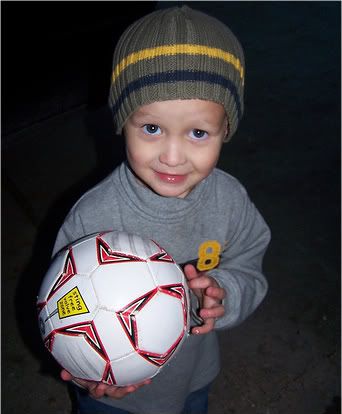 I was so excited when I saw him, but feared that he would disappear from right in front of me. I had to see his face, his bright blue eyes, his smile! SO I stepped closer and reached my hand out towards him.
And he didn't disappear!
All I could do was look at his face and then hold him close! He smiled. A quiet but happy smile.
It's funny but in my dream he had a little cut that was healing on his forehead, directly above his right eyebrow. It made me smile even more because that boy always had scrapes and bruises from all of his climbing, jumping and well, playing like a boy should play! :)
I held him out slightly in front of me so I could see him clearly again. Then I squeezed him close... again. I can still almost feel his soft skin, smell the shampoo in his hair, feel the squish of his belly and arms (he was skinny but still had that nice layer of baby fat-- dimply and perfect).
I thought again that he might disappear right in front of me. But he didn't.
Instead, I woke up.
I literally woke up praising and thanking God for this great gift! For this dream! For Christian not just being in my dream but in my life!
Thank you, precious Lord for giving me this dream, this GIFT! Your timing is perfect and your love overwhelms me.
I have told y'all before about God
speaking clearly
to me. This time He didn't use words, He used a dream, this very dream. One that my heart was yearning for but I could never create on my own, no matter how much I hoped and tried and begged! I wish I could make you understand exactly what I'm trying to say, exactly how God was showing me that HE LOVES ME. He has not forgotten my pain and sorrow. He has not forgotten my anguish. He has not forgotten my empty arms.
And He reminded me of the truth-- that all is not over.
I want to shout to everyone that Christian's real life has begun!
Like C.S. Lewis said, his life here in this world was but the cover and title page. Now he has begun Chapter One of the Great Story, which no one on earth has read; which goes on for ever; in which every chapter is better than the one before.
Christian is in the place that he was created for. He is home!
Where will your home be? How will your story end?