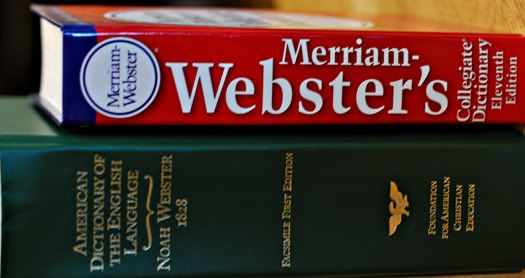 When I first heard about
Noah Webster's 1828 Dictionary
, I thought I just
had
to have it. Since
the reasonings
were quite sound, I plunked down a good chunk of change to buy it and have it shipped to my house. (This is one heavy dictionary!)
Now that my boys are finishing up the 3rd and 5th grade, we have had more opportunity to use the Dictionary than ever before.
But there was a problem.
When we'd go to look up a word, IT WASN'T ALWAYS THERE.
While many words are there along with great example sentences and definitions, new vocabulary just isn't included. It's not Noah's Webster's fault that they didn't have modems or morse code back in the day.
What I like about it:




-affordable
-the lighter weight makes it more appealing for kids to pick up and open
-pronunciation guide to each word (which the 1828 does not have)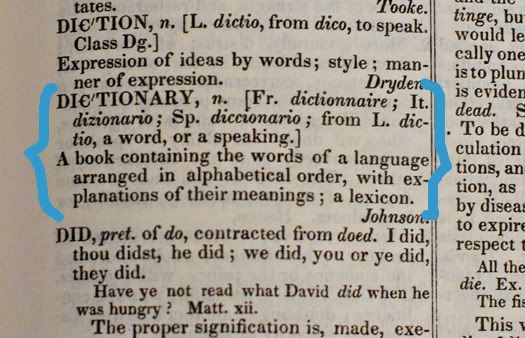 Both are good dictionaries.
But for kid-friendliness and usefulness in home studies, I would recommend Merriam-Webster's Collegiate Dictionary.
If you can afford and have shelf space for both, the 1828 would be valuable from a historical aspect and for its incorporation of the Bible in its definitions. With its example sentences, it would be excellent for use in Bible or character studies.
The MW Collegiate does not give any example sentences with its definitions, which can be a positive or a negative depending on how you look at it. But its straightforwardness and scope lends itself for use in a homeschool (or any) setting.
Anyhow, that's my 2 cents on Dictionaries.
Do you have either of these dictionaries? Do you just use Dictionary.com? What are your thoughts?
(See? We DO homeschool! Or do you at least think we do yet?)