This weekend, I attended a conference for grieving mothers hosted by
Umbrella Ministries
. The conference was amazing-- encouraging, educational, uplifting and much needed!
One of my favorite parts of the conference was making this little bracelet. Picking out beads, sorting through memories, and talking about our children... It was very good. (Can you tell that words escape me?)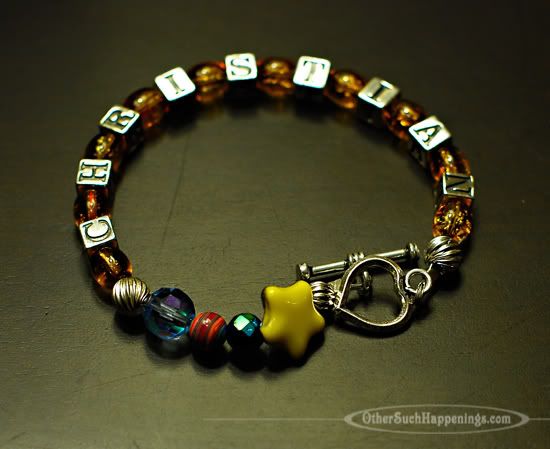 C-H-R-I-S-T-I-A-N:
I loved being able to say his name and talk about him all weekend long. Did y'all know that I chose the name Christian after hearing it in an audio version of Pilgrim's Progress? His name is a reminder to follow Jesus Christ no matter life's circumstances.
It was Providential, y'know.
The other beads from left to right:
-
multicolored
to remind me of the
rainbows
-
dark, bright blue
for Christian's
eyes
-
yellow star
for one of his favorite songs "twinkle twinkle little star" and
this picture
.