While you don't necessarily grill the slaw itself, it makes for a wonderful side dish for almost any grilled meat, be it ribs, sausage or even fish. I love the creamy dressing and the sweetness that the corn adds to the slaw.
My favorite way to eat it is in a BBQ sandwich with a little
Tiger Sauce
on top. Mmm....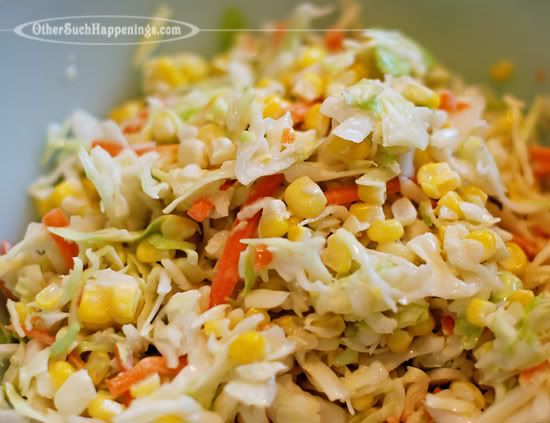 Summer Slaw
4 large ears of corn
1 lb bag shredded cabbage mix
2/3 cup mayonnaise (or Miracle Whip *gag* if you prefer more tang)
2 T white vinegar
4 T white sugar (or sugar substitute)
salt and pepper to taste
2. Place cut corn and cabbage mix together in a large bowl.
3. Whisk next 3 ingredients in a small bowl until combined.
4. Add to corn/cabbage and toss well.
5. Salt/pepper to taste.
6. Cover and refrigerate for at least an hour (or overnight), stirring occasionally.
Head on over to
Robyn's
to see more On The Grill recipes.