Many of you know that Christian had quite the fondness for
fwogs
.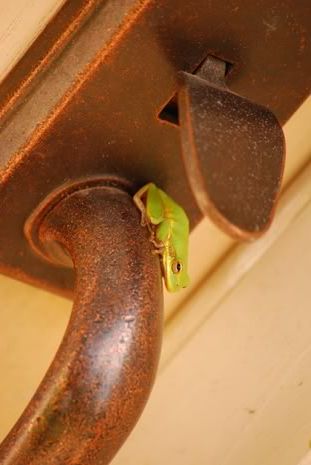 Did you know that he was also fond of visiting Great Grandma?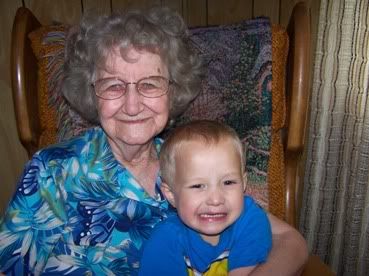 Not only did she always have ice cream and soft peppermints, but she had these guys...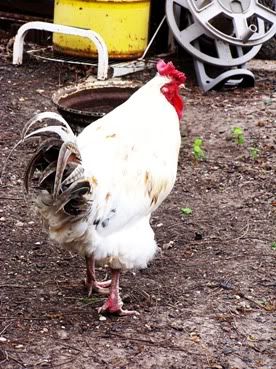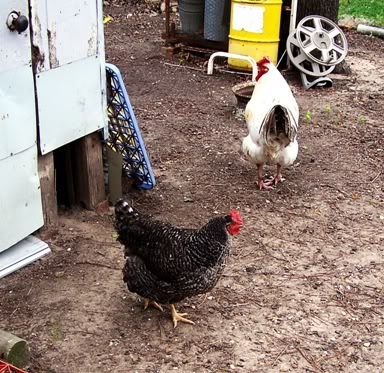 When I was little, I was scared of chickens (pretty much all things pecky and feathery) mainly due to a mean goose that frequented the nearby marina.
But not my Christian!
He had zero fear of feeding great grandma's chickens or going into the henhouse to gather eggs. Even
I
had never gone into the *gasp* henhouse. The boys would often fight about who would get to gather the eggs on our visit-- and you could always be sure that Christian would not let himself be overlooked!
I find it a little funny that whenever Christian tried to say his name, it sounded more like "
Chichen
" or "Chicken". In fact, his church buddy Dustin couldn't say "Christian" either. He'd walk around asking "Where's Chicken? Is Chicken here?" (But you have to imagine it coming from the mouth of a 3.5 year old boy with cowboy boots on.)
Anyhow, I just

had

to share that memory.
Sometimes I am fearful that I will forget the little details and special moments like that. When I remember them out loud or relive them in my mind, it makes me sad but happy at the same time.
I think it's important to be thankful for those precious memories that we did have, rather than focus on
not
having those moments anymore (not always the easiest thing to do).
Thank y'all for listening/reading/
youknowwhatImean
. Your encouraging comments and e-mail's on my
last post
were a real blessing.
I also want to thank you friends for all of the cards, notes, and special gifts that you have sent to me and my family this past year. I am a personal, handwritten thank-you note kind of a girl but have simply been
too overwhelmed
to individually acknowledge every thoughtful expression and blessing. I hope you will forgive my rudeness. But please know that I have taken special notice of your acts of kindness and do appreciate each of y'all from the depths of my heart!