How many of you know this song?
Ms. Susie had a baby, his name was Tiny Tim
She put him in the bathtub to see if he could swim
He drank up all the water, he ate up all the soap
He tried to eat the bathtub, but it wouldn't go down his throat!

Ms. Susie called the doctor
The doctor called the nurse
The nurse called the lady with the alligator purse!
And I have no idea how the rest of the song goes.
But what got that song stuck in my head was this super great find at the store the other day. Look what I got for $10!!!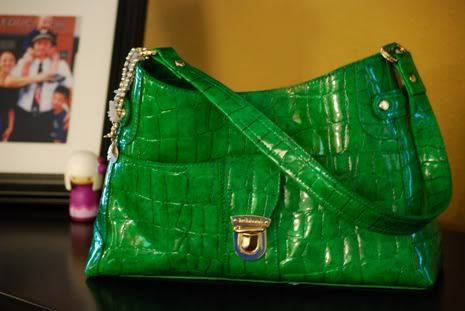 The bright green color is just the perky-pick-me-up that I needed!
I. love. it.
I am not a purse switcher. I am a devoted purse owner... if I love you, dear purse, I will be committed to you. I won't change purses to go with different outfits. Once I have found you, I will put my arm through yours no matter what I happen to be wearing-- even if it doesn't match and even if it clashes!
Since you deserve honesty, I must confess that once your good looks have spoiled or you begin to weigh so much that my shoulder and neck begin to hurt, I
will
have to discard you. Never to be used again.


Not ever.
(Well, except you're this one clutch that I really like, but let's face it.. a clutch isn't a practical everyday kind of accessory for a momma who needs her hands to be free. It's only for certain occasions.)
So what are your purse habits? How many do you have in your closet?