On the way to church, there is one building that constantly gets some sort of remark from my boys-- the "Country Club."
Lest ye think, ahem, that it is a high falootin' sort of place, it is the Country Club
Bar
. As in a seedy cinder block building set
right next
to
the railroad tracks (because drunks and train tracks are always a stellar combination, y'all).
When my boys were younger, they'd ask about it and what people might do there.
They asked questions like
"So what kind of drinks, mommy?"
And I'd tell them that people would probably be drinking beer and liquor in there. When explaining liquor, I told them it was stinky, tasted bad and I'm sure burned their throats.
That's when they started whispering to each other
"*gasp!* Look! That's where those people drink

hot

drinks instead of go to church!"


If that wasn't funny enough, conversation took a more interesting turn when we added three little girls to the mix last Wednesday night.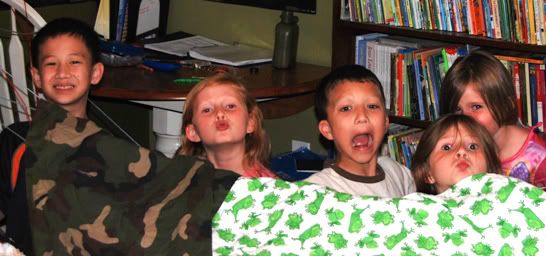 Upon passing the Country Club, this was overheard:
"You can't get drunk from drinking root beer because it's just soda."
"What do you think they do in there?
-I bet they play pool and drink beer.
-And smoke cigarettes!"
"And there are women in there too! And they show their bellybuttons!"
This is the point where Austin, who will be 10yo on Monday, loudly sucked in his breath.
One of the girls turned to him and said
"It's not funny, Austin!"
He replied,
"I don't think it's funny! I think it's DISGUSTING!"
And all five children concurred that it was indeed sinful and disgusting to be showing your bellybutton.
We tackle deep, spiritual subjects in our devotional time, can't you tell?