For Melissa's
Get the Picture Show and Tell Monday
at
A Familiar Path
, she asks if we have learned anything new this week in our photography.
Oo! Ooooo! Mr. Cart-airrr! Mr. Cart-aiirrrrr!
It just so happens that the very brilliant Beth from
Pages of Our Life
shared this very handy-dandy tip with me.
"If you place the subject just inside the door of a house where there is no wall behind them, and you stand outside with your camera looking in, it creates dramatic lighting right on the subject."
Since I wanted a picture with my boys (as in a picture of ME and MY BOYS-- AT THE SAME TIME), I set up my camera on a tripod and used a remote. If you don't have a remote, you can try using your camera's self-timer feature and use the *gasp* auto feature. It's probably the only time you would want to hug the auto feature.
Ahhh... room to breathe.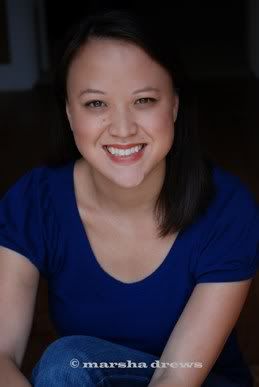 Then it got a little crowded.
And I liked it.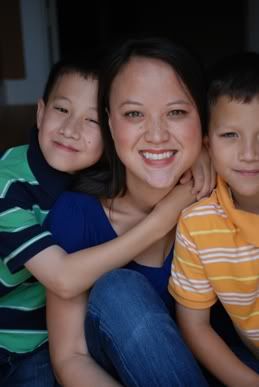 Oops! Sorry about that Noah.
We scooted over a little and tried to make a pirate face.
Some more successful than others.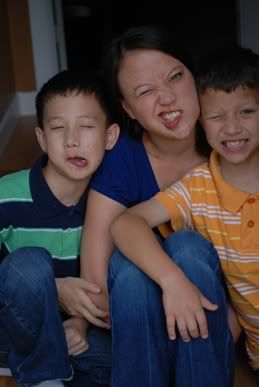 We laughed.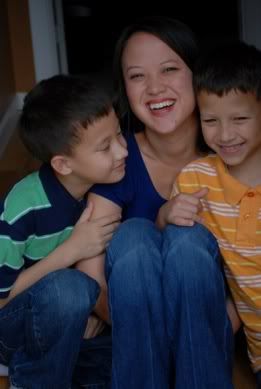 And then we got a "normal" shot.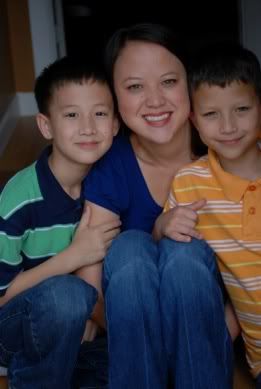 I have decided that normal is kinda boring.
But it'll do, especially if we're all together.