Almost everyone has a uniform that they wear.
When he's not working, David will most likely be wearing athletic shorts and a t-shirt (solid color- because tall sizes in a graphic shirt are hard to come by... well, except this
Game Over
one apparently!).
I often wear a skirt and t-shirt in the summer and jeans and t-shirt in the winter. While my skirts are printed or boldly colored, I prefer to play it safe when it comes to shirts.
My favorite color?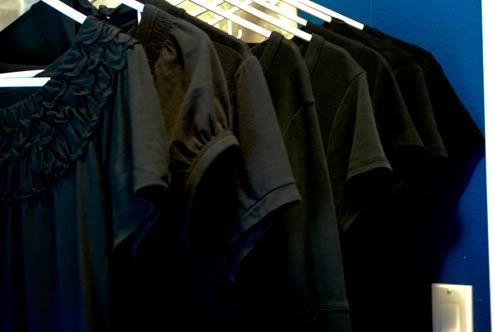 Yup, the good ole standard black shirt. See, I don't have too many do I?
(Oops. That's not counting any tank tops, long sleeved shirts or sweaters that might be lurking in my closet. Oh, and that one v-neck in the laundry basket.)
Sometimes my friends and family laugh about my penchant for the dark side, but I really think it's a flattering color on me and when I wear it, I feel confident and comfortable.
I had to make a conscious effort to put on that
blue shirt
the other day!
So, what's
your
uniform? Do you have a go-to color or style? Maybe I want to shake it up a bit around here.